Rajan Rate Cuts Lose Sway as India Bond Traders Scan Rain Clouds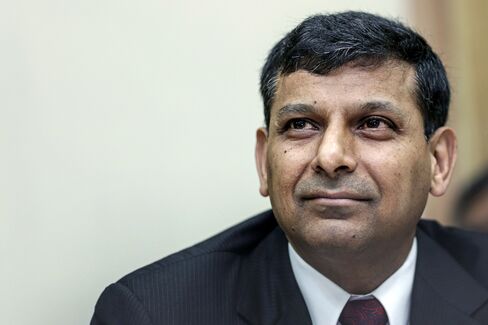 Reserve Bank of India Governor Raghuram Rajan looks set to cut interest rates for a third time this year and few in the bond market will celebrate.
The yield on the 10-year sovereign notes due 2024 has climbed four basis points from Jan. 14, a day before Rajan first cut rates, to 7.81 percent on Monday. Similar-maturity yields in China have fallen 15 basis points this year as the central bank reduced borrowing costs three times since November.
The gloomy mood as Rajan reviews monetary policy on Tuesday is driven by investor concern over the threat posed to inflation by this quarter's rebound in oil prices and a potentially weak monsoon. While 24 of 31 economists in a Bloomberg survey predict the repurchase rate will be lowered to 7.25 percent, the median estimate in a separate poll is for no further cuts in 2015.
"The yield movement clearly shows markets are uncertain about how the central bank will move on interest rates," Manish Wadhawan, head of interest-rate trading in Mumbai at HSBC Holdings Plc, said in a May 28 phone interview. "More than the policy decision, bond investors will be keenly watching what the RBI says in terms of guidance."
Rajan lowered the benchmark rate by 25 basis points each in unscheduled moves in January and March, before holding it steady at 7.50 percent at an April 7 review. The RBI will consider factors including the "likely strength" of monsoons before deciding on future actions, he said in a statement on that day.
'Uncertain Monsoon'
India's June-September rainfall is seen below normal for a second year, potentially hurting crop output and stoking food costs. The monsoon, the main source of irrigation for farmers, is all the more crucial this year after unseasonal rain and hail ravaged winter crops. Agriculture accounts for about 15 percent of gross domestic product for Asia's third-largest economy.
The yield on the 2024 notes, the current 10-year benchmark, has risen six basis points since the weather department gave its forecast on April 22. Brent crude prices have climbed 18 percent since end-March after three straight quarters of declines, raising import costs for India. GDP grew 7.3 percent in the year ended March 31, government data showed on Friday, below the 7.4 percent median estimate in a Bloomberg survey.
More Difficult
"With headwinds from uncertain monsoon and oil prices rising, the window for rate cuts will be narrower going forward," Vivek Rajpal, an interest-rate strategist at Nomura Holdings Inc. in Singapore, said in a May 28 phone interview. "Looking at bond yields, it's becoming more and more difficult to see how the rate cycle is going to pan out."
Nomura expects Rajan to cut rates by 25 basis points on Tuesday and then pause until December 2016. Consumer-price gains eased to a four-month low of 4.87 percent in April.
BNP Paribas SA's Chief Economist Richard Iley says India's "currently benign" domestic inflation and the stability in global markets ahead of an increase in U.S. interest rates offer the RBI an opportunity to lower borrowing costs by another 25 basis points.
Now or Never
"With the Federal Reserve remaining on course to deliver its first rate hike in almost a decade perhaps as soon as September, volatility in global financial markets, especially equities, is likely to pick up, even spike," Hong Kong-based Iley wrote in a May 27 report titled 'India: Now or Never.'
The rupee weakened 0.6 percent last month to 63.83 a dollar as global funds pulled $1.4 billion from Indian bonds in the first monthly outflow since April 2014. They withdrew another $429 million from stocks. Fed Chair Janet Yellen said May 22 that she expects to lift rates this year if the U.S. economy meets her forecasts. The currency had tumbled to a record low of 68.845 in August 2013 after the Fed's signal to withdraw monetary stimulus saw an exodus of funds from emerging markets.
Even as the majority expects the RBI to ease on Tuesday, some investors say the central bank may hold rates. Resilient oil prices and El Nino conditions indicate another rate cut is by no means assured, Jonathan Cavenagh, a currency strategist at Westpac Banking Corp., wrote in a note dated May 22.
Stand Pat
His views are echoed by Harish Agarwal, a fixed-income trader at the Indian unit of South African lender FirstRand Ltd.
"The RBI may stand pat at this meeting and evaluate the inflation trajectory going forward," Agarwal, who is based in Mumbai, said in a May 28 phone interview.
One-year interest-rate swaps, derivatives used to guard against swings in funding costs, don't give away much either, with the contracts little changed from end-March at 7.48 percent.
"We have seen two interest-rate cuts and still, yields are back to the levels seen before the easing began," said Ankur Jhaveri, co-head of currency and rates at Edelweiss Financial Services Ltd. in Mumbai. "That's because the markets aren't clear about how the rate cycle will move. The guidance from RBI is what traders will watch out for on Tuesday."
Before it's here, it's on the Bloomberg Terminal.
LEARN MORE