Meet the Central Bankers Who Fight With Tomatoes and Owls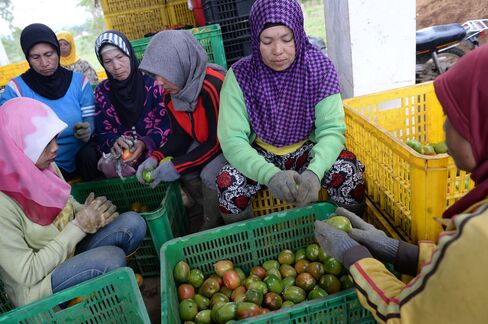 Rosmaya Hadi, head of the Indonesian central bank in West Java province, is trying to rein in Asia's highest inflation rate. That's why she's harvesting tomatoes.
Wearing a gray, patterned hijab, she chats to farmers she's worked with for six months to improve their yields of potatoes, carrots and other vegetables, asking after their children's health and listening to how the crops are coming on. She bites into a fist-sized tomato, just plucked from the vine.
"Delicious," she says, giving a thumbs-up.
The agricultural project in Pangalengan, in the hills south of the provincial capital of Bandung, is one of many led by Bank Indonesia's 18 offices, from corn fields in Medan to seaweed farms in Lombok and cattle ranches in Kupang. In each case, central bankers like Hadi head to the fields, out to sea or to ranches to directly address the supply side of the inflation equation.
"This is price stabilization at its simplest," Hadi said. "Price stability remains our core objective, but in an economy like Indonesia, interest-rate policy transmission isn't instant as the people are scattered across many islands and infrastructure is limited."
Indonesia's inflation jumped to 7.15 percent in May from a year earlier, the country's statistics office said today, more than Bank Indonesia Governor Agus Martowardojo had predicted. The high prices are curbing his ability to lower interest rates to help lift economic growth from its slowest rate five years. Vice President Jusuf Kalla said last month that the central bank should "gradually cut" borrowing costs.
El Nino Drought
Tackling inflation in the world's fourth-most populous nation means starting with food, which makes up about a fifth of the consumer price index. That's going to get tougher as the nation's 200 million Muslims head into Ramadan, a month of daytime fasting and evening feasts, when demand spikes.
Add to that the advent of El Nino, which typically brings drought to large parts of the country.
"Most Indonesians still spend much of their income on food," said Aldian Taloputra, chief economist at PT Mandiri Sekuritas in Jakarta, a unit of the nation's largest bank. The cost to families is heavily influenced by "supply disruptions or long droughts or failed harvests, so if that can be well managed then inflation won't be as volatile."
Which is why Hadi is visiting the plastic canopies her bank bought to protect the tomatoes in Pangalengan, a hill town known for its hot springs and tea plantations. She and experts from Padjadjaran University taught 12 farmers how to increase vegetable yields and reduce risks, giving them the rain shelters and vegetable washing machines they share. The farms have since been used as models by another 50 growers.
No Middleman
The farmers' group, called Katata, Sundanese for well-managed, sends vegetables straight to PT Hero Supermarket shelves after the bank and Tomy Perdana from the university arranged a deal in April with the retailer.
"We're no longer entirely at the mercy of nature," said Dedi Gunawan, who gets 20 percent more potatoes from his field, and wore neatly pressed black trousers above his sandals for Hadi's visit. "We have more bargaining power. There's no middleman taking a big cut anymore."
Gunawan is waiting for his turn to use the rain shelters to grow beefsteak tomatoes, used for salads instead of being milled into sauces like the smaller, local variety. The higher yields help President Joko Widodo's food-security program, which aims to achieve self-sufficiency in rice, corn and soybeans by 2018, partly by buying equipment, fertilizer and seeds for farmers.
Indonesia's government says it aims to import no rice this year for the first time since at least 2000. It bought $246 million of the grain from abroad in 2013, the latest year data is available from the National Statistics Office.
Rice Harvest
Difi Johansyah helped achieve that. The head of Bank Indonesia's North Sumatra office worked with farmers in Langkat regency, bordering the Malacca Strait, to improve yields on an 800-hectare (2,000-acre) cluster of farms. The harvest in February reaped 6.2 tons per hectare, double the amount they used to get, he said.
"The central bank's mandate is to manage inflation, so setting monetary policy is one side of it," Johansyah said from the provincial capital of Medan. "This is the other side."
While the bank may be able to encourage better farming methods and higher yields, the effort to rein in prices is hampered by the country's poor roads, railways and ports, which make it expensive to get food to where it's needed.
"Inflation is more a matter of distribution," said Rosman Dirgantoro, senior economic analyst at Bank Indonesia's Palembang office on Sumatra, an island bigger than California. "Food is sent from Java but roads in Sumatra are in disrepair, so the food is expensive here."
Robber Rats
Some of Bank Indonesia's food programs have been running for years. Dwi Suslamanto bought hunting owls to ward away rats from rice fields in Banyuwangi, East Java, when he was a central bank director for the province from 2011. Each attack by the pests could reduce production by about a third, causing local prices of the staple to spike, he said.
"The rats rush in like robbers, but they won't even come near now that we've got the owls," Suslamanto, now West Kalimantan head for Bank Indonesia, said from the provincial capital Pontianak.
With better yields and higher incomes from cash crops, more farmers are able to get bank loans, allowing them to invest in equipment and facilities, Hadi said.
"More financial stability for them, better price stability for us," Hadi said with a grin, finishing her chunk of tomato. "This is why we're rolling up our sleeves and going down to the fields."
Before it's here, it's on the Bloomberg Terminal.
LEARN MORE