Italian Voters Select Regional Leaders in Test of Renzi Strength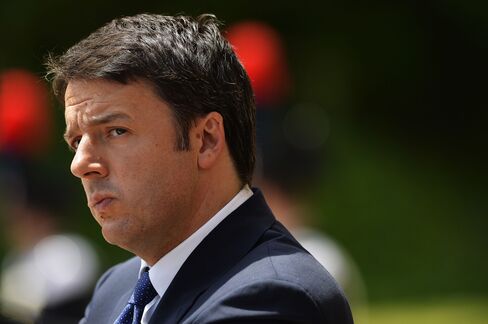 Italians in seven regions went to the polls on Sunday in a test of whether Prime Minister Matteo Renzi can ward off opponents denouncing the euro and political corruption.
The unelected Renzi, 40, was expected to hold on to five of the seven regions by a wide margin, according to political analysts and public opinion polls. His Democratic Party (PD) won 40.8 percent of the vote in the European parliamentary elections of May 2014 in the most recent national test of his support.
Second place probably will go to one of two anti-establishment, anti-euro parties -- the Five Star Movement or the Northern League. The League has also campaigned against immigration, urging a stop to would-be refugees crossing the Mediterranean. Renzi has argued he has helped end a record-long recession with reforms including an overhaul of the labor market to make hiring and firing easier, and tax breaks for the lower-paid.
"We're no longer the sick man of Europe," the premier said on Friday, after a week in which he oversaw the signing of a new deal for making Lamborghini sports utility vehicles in Italy, and toured a Fiat Chrysler Automobiles NV plant in the south.
Renzi pledged at campaign rallies up and down the country to pursue his reform agenda, with priorities including tackling waste and inefficiency in public administration, and attracting more foreign investment.
Italy, the euro-region's third-biggest economy, is starting to emerge from its recession, helped by the European Central Bank's quantitative easing program. Italian statistics agency Istat said on Friday that the nation's economy expanded 0.3 percent in the three months through March.
Populist and center-right parties have denounced Renzi as too subservient to Brussels and Berlin.
Italy has a total of 20 regions. Voting was taking place in regions including Liguria on the Italian coast, Tuscany and Umbria.
More than 20 million people are eligible to vote in Sunday's elections, Italian news media estimate.
Before it's here, it's on the Bloomberg Terminal.
LEARN MORE