Illinois Budget Deal Collapses, Intensifying Financial Crisis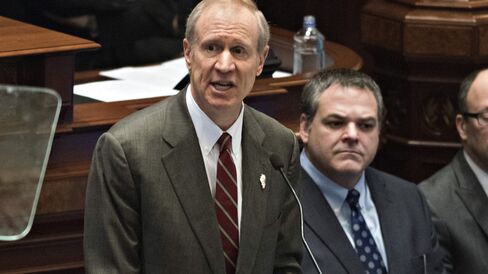 Illinois's financial crisis deepened Sunday as the Democratic-controlled legislature and Republican Governor Bruce Rauner failed to reach an accord over a spending plan for the budget year beginning July 1.
The collapse of negotiations occurred hours before the scheduled end of the legislature's budget session, meaning any compromise to close a $6.2 billion deficit now will require a tougher-to-obtain three-fifths vote to approve. The stalemate leaves the nation's lowest-rated state in danger of another downgrade.
"Today's the last day before we need a change in the number of votes needed to pass a bill," Senate President John Cullerton, a Democrat, told reporters in Springfield. "It's unlikely we can get anything done."
"Once again, we find ourselves trying to work with a governor who continues to run campaigns rather than run the state that elected him," Cullerton said in a statement. "Rather than roll up his sleeves and work on solutions, he dictates demands and threatens those who defy him."
Rauner, a former private equity executive and the first Republican elected as Illinois governor since 1998, has been increasingly critical of Democrats' insistence on tax increases to help deal with the deficit. Democrats hold supermajorities in both chambers.
Rauner said he wouldn't agree to tax increases unless Democrats approve more spending cuts and ease business regulations.
Illinois has been sliding deeper into financial trouble for years. The state is graded A3 by Moody's Investors Service and an equivalent A- by S&P. While both give it a negative outlook, S&P put Illinois on review for a rating cut after the state's highest court overturned a 2013 pension overhaul intended to resolve a $111 billion unfunded retirement liability.
Before it's here, it's on the Bloomberg Terminal.
LEARN MORE