Haut-Bailly Priced 9% Higher Reflects Wilmers Investment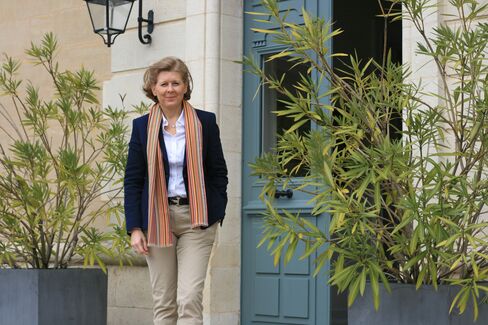 Chateau Haut-Bailly, a Bordeaux wine estate in Pessac-Leognan south of the city, boosted its 2014 vintage price by 9 percent as more than two decades of investment by U.S. banker Robert Wilmers spurred demand in export markets.
Some 85 percent of its wine is sold abroad, with historic markets like the U.K., Belgium and Switzerland now balanced by sales in the U.S., Singapore, Hong Kong, Japan and China.
Haut-Bailly has benefited from better growing conditions in 2014 that let many Bordeaux winemakers increase prices after two tougher vintages. While collectors have been hesitant to buy Bordeaux wine futures after declines in top labels since 2011, Haut-Bailly has been buoyed by critic Robert Parker's upgrade of its 2009 vintage in April to a perfect 100 points.
"We are very pleased with 2014," Haut-Bailly Director General Veronique Sanders said in an interview at the winery during presentations to merchants and journalists. "We managed to get the ripeness we wanted. I think we got the right balance."
Haut-Bailly 2014 was priced at 43.20 euros ($47.46) a bottle from Bordeaux brokers, up from 39.60 euros for the 2013 and 42 euros for the 2012, according to data from the Liv-ex wine exchange. It compared with 76.80 euros for the 2009 wines and 89 euros for the 2010s, Parker's two highest-rated vintages from the estate.
Relative Value
The 2014 broker price translated into a U.K merchant price of 415 pounds ($635) a case, according to Liv-ex, putting it in a similar range as several vintages over the past decade. "The 2006 in particular, awarded 95 by Robert Parker, appears to offer relative value," Liv-ex said in its blog.
The Haut-Bailly estate was bought in 1998 by Wilmers, the chairman and chief executive officer of M&T Bank Corp. in Buffalo, New York. Wilmers has renovated the vineyard and chateau, adding two cellars with more smaller vats to bring greater precision to the wine-making. Concrete vats are used during the maturation process, with oak barrels for aging and stainless-steel tanks for storage.
"We love concrete because it's very stable in temperature and gives a smoothness in the vinification that we really like," Sanders said. "Stainless steel is a fantastic new material" used at the end of vinification for storing wine.
Fifteenth Century
Vines were grown at Haut-Bailly as long ago as 1461, according to the estate's website, with the foundations of the modern vineyard dating from the 1530s.
"It's an amazing terroir," Sanders said, referring to the location of the land and the quality if its soil. "A single-block terroir which never changed hands in four centuries."
While Sanders said each vintage marks its own challenge at Haut-Bailly, the latest project at the estate involves a neighboring vineyard property, Chateau Le Pape, acquired in 2012 and now undergoing renovation.
"It's a little gem," Sanders said. "We're going to reveal the quality of the terroir. You have to be ambitious."
Before it's here, it's on the Bloomberg Terminal.
LEARN MORE