Duda Looks a Little Less Scary to Polish Bondholders After Rout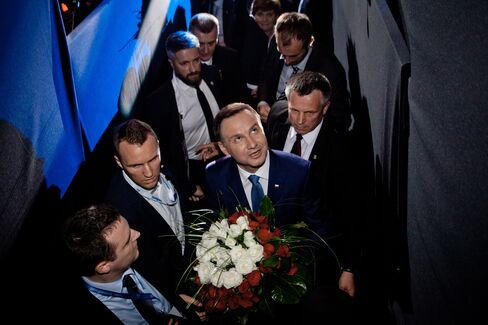 Investor caution about Poland's president-elect is starting to dissipate.
Andrzej Duda, elected a week ago on pledges to unwind austerity measures like the increased retirement age, softened his tone Thursday, saying costs must be considered. Even a win for the party behind him, Law & Justice, in parliamentary elections this year could bring benefits for bondholders from interest-rate cuts, while spending would be constrained by legal limits, Bank of America Corp. said in a report.
More sanguine sentiment may mean Poland's longest bond rout is nearing an end after four months of losses that lifted the extra yield investors demand to hold zloty-denominated securities instead of benchmark German bunds to the highest in a year. The selloff has prompted Peter Schottmueller at Deka Investment GmbH to raise his stance on zloty bonds.
"Duda has won the presidential election and the risk of his party's parliamentary win is rising, but it's not a done deal," said Schottmueller, who helps manage $17 billion as the head of emerging-market fixed income at Deka in Frankfurt. "There are some rules in place that prevent the government from wrongdoing."
The yield on the sovereign's zloty bond due in July 2025 has jumped 98 basis points since the end of January to 2.96 percent on Monday. Yields are likely to drop to 2.60-2.65 percent over the next three months, Schottmueller said by phone on May 29. He said he is turning "neutral" from "underweight" in local bonds.
Unprecedented Decline
The unprecedented fourth monthly decline of Polish bonds in May extended losses to 2.7 percent, the third-worst performance among 20 sovereigns tracked by Bloomberg and the European Federation of Financial Analyst Societies. The premium investors demand to hold 10-year zloty bonds instead of benchmark German bunds rose to 247 basis points today.
"Spreads over German bunds have widened making Polish zloty bonds more attractive from a valuation point of view," Thanasis Petronikolos, head of emerging-market debt at Baring Asset Management in London, said by e-mail on May 29. "Poland continues to be supported by strong economic fundamentals, but the political outlook has become uncertain."
Duda prevailed over incumbent Bronislaw Komorowski, a candidate backed by the ruling Civic Platform, on pledges to boost benefits for families as well as roll back an increase in the retirement age. A reversal in the retirement age from 67 would cost the budget 71.5 billion zloty ($19 billion) by 2020, about a quarter of the budget revenue planned for this year, according to the employers' lobbying group, Pracodawcy RP.
Cost Question
The president-elect toned down his campaign pledge last week, telling RMF FM radio on Thursday that while he wants "to give people a choice" when to retire, he said "it's also a question of costs." There won't be a "simple return" to the previous rules, he said.
Duda's election promises should be taken "with a pinch of salt" as Poland has "several layers of fiscal anchors" that prevent lavish spending, Mai Doan, an analyst at Bank of America in London, said in a report May 28. Additionally, Law & Justice, if in power, could appoint "dovish" members of the Monetary Policy Council that would replace eight out of its 10 members next year, Doan said.
The Polish central bank's vow in March to keep borrowing costs unchanged this year undermined demand for Polish bonds while a global rout gathered pace at the end of April, wiping more than $400 billion from fixed-income markets worldwide. Signs of stability emerged in the past two weeks as bonds rebounded in the U.S. and Germany and a European Central Bank official said the ECB planned to accelerate the pace of its sovereign debt purchases in May and June.
"After the recent underperformance of the Polish markets, I expect some calm on the domestic front at least until the president-elect takes office" in August, Esther Law, who manages emerging-market debt at Amundi, which has about 954 billion euros ($1.04 trillion) of assets, said by e-mail on May 29. "While the change in politics may impact the fiscal policies in the future, Poland remains a strong A-rated credit in this region and should continue to benefit from the euro-zone monetary easing stance."
Before it's here, it's on the Bloomberg Terminal.
LEARN MORE