Dive Deeper Into Japan's Property Trusts? BOJ Faces Decision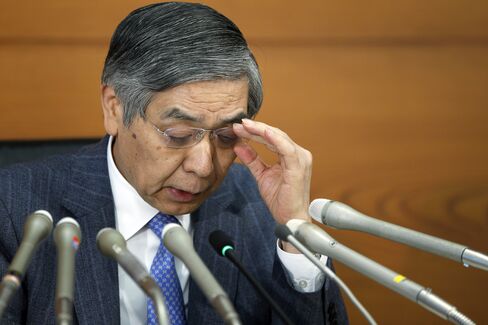 The Bank of Japan's purchases of shares in real-estate investment trusts has buoyed this key market, helping breathe life back into the nation's moribund property industry.
Without a shift in policy, this could begin to change as the central bank runs out of securities to buy over the next year that meet its strict investment criteria, according to analysts at UBS Group AG and Mizuho Financial Group Inc.
Options include buying J-REITs with lower credit ratings or pledging to maintain the current pace of purchases, a stance that would help support prices as new issuance hits the market, according to people with knowledge of discussions at the BOJ. The Tokyo Stock Exchange REIT Index has doubled in value since the BOJ started buying the assets in 2010 and land prices in Japan's biggest cities are rising.
"Given that the central bank should and is likely to act before the market starts to get nervous, some measures could come early as the second half of this year," said Takashi Ishizawa, a researcher at Mizuho in Tokyo. "The BOJ's J-REIT purchases must be approaching their limit."
While members of the policy board will have to make a decision on J-REITs, the issue hasn't forced its way onto their agenda yet, according to the people with knowledge of discussions at the BOJ.
Governor Haruhiko Kuroda tripled the annual pace of J-REIT purchases to 90 billion yen ($726 million) in October last year, while maintaining a pledge to buy only securities rated AA or higher, and not to acquire stakes of more than 5 percent in any single trust. This second stipulation means the BOJ doesn't have to disclose how many securities it's bought, or in which J-REITs.
Biggest Cities
Most properties that make up these trusts are concentrated in Japan's biggest metropolitan areas, particularly Tokyo, Osaka and Nagoya, where prices rose for a second straight year in the 12 months to Jan. 1, 2015. While nationwide property prices fell for a 23rd straight year, and are still down more than 70 percent from a 1991 peak, the decline was just 0.3 percent.
Satoshi Horino, president of Mori Trust Asset Management Co., likened the BOJ's original move into J-REITs under Kuroda's predecessor, Masaaki Shirakawa, as a "Copernican revolution" for the Japanese property industry.
"The BOJ helped so much to ease the pessimism," said Horino, who'd witnessed two decades of sliding property prices in Japan, followed by the global financial crisis of 2007-08 that weakened sentiment even further.
Influencing Prices
J-REITs invest in properties ranging from office buildings and apartments to logistics centers, shopping malls and nursing homes, giving the central bank a channel to influence prices in the real estate market.
Nippon Building Fund Inc., with the largest market capitalization of Japan's 51 listed J-REITs at 820 billion yen, has investments in 73 office buildings. Nippon Prologis REIT Inc. specializes in warehouses and industrial properties, and Advance Residence Investment Corp. focuses on apartments.
The Tokyo Stock Exchange REIT Index rose 0.3 percent at 1:04 p.m. on Monday in Tokyo, bringing its gain to 24 percent since the BOJ introduced record stimulus in April 2013.
Officials at the BOJ declined provide any details of its purchases.
The central bank noted some "overheating" in the real estate market in its Financial System Report in April, while Kuroda said on May 22 that he hadn't seen any "excessively bullish expectations in Japan's asset markets."
Profits in Japan's real estate industry rose 18 percent in the three months through March from a year earlier, a third straight quarter of increases, according to data released on Monday by the Ministry of Finance.
The tumble in real estate prices in the 1990s weighed down Japan's banking sector with piles of bad debts, cut lending.
Loans to the real estate industry rose 3.6 percent in the first quarter of 2015 from a year earlier, the biggest increase since 2006.
That's one piece of good news for Kuroda after the slump in oil prices set back his wider goal to stoke inflation in Japan to 2 percent. The latest reading is zero.
Before it's here, it's on the Bloomberg Terminal.
LEARN MORE