Nice Words From China and U.S. Fail to Dim South China Sea Tensions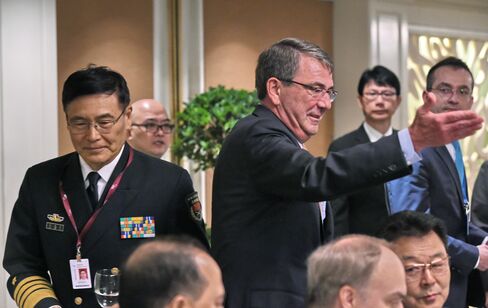 Inside a plush Singapore hotel, top American and Chinese defense officials spent the weekend treading carefully on China's pushiness in the South China Sea. Outside that bubble, tensions between the world's two biggest economies over the key shipping lane are undiminished.
The Shangri-La Dialogue in Singapore is an annual venue for the U.S. and China to set out their role in the region, for the U.S. to tell China to stop being so assertive against other claimant states in the South China Sea, and China to say it has every right to defend its territory.
In contrast to last year when then-Defense Secretary Chuck Hagel traded barbs with Chinese Lieutenant General Wang Guanzhong, this year's speeches by U.S. Defense Secretary Ashton Carter and Chinese Admiral Sun Jianguo were couched in more moderate tones. Yet the external backdrop is more tense: China has dramatically escalated its reclamation of disputed reefs and is warning planes from other countries away.
The lack of fireworks at Shangri-La potentially reflects unease among some Southeast Asian nations about the pickup in tensions, as the U.S. boosts its patrols of the South China Sea. Singapore Prime Minister Lee Hsien Loong warned on Friday that smaller countries in the region don't want to be squeezed by the two major powers and have to pick a side.
Regardless of what was said inside the forum, "it is more dangerous now than last time because of the construction and the U.S. response has been very robust, shown resolve," said Susan Shirk, a former U.S. deputy assistant secretary of state for East Asia, referring to China's reclamation. "The U.S. may be prepared to take some risks to demonstrate the credibility of that resolve."
Surveillance Flights
Shirk, who is chair of the 21st Century China Program at the University of California in San Diego, also attended last year's Shangri-La Dialogue, held in Singapore since 2002.
When Hagel spoke last year there was little risk the U.S. military would be dragged into a quarrel that had blown up over a Chinese oil rig parked in waters also claimed by Vietnam. Now, the tensions are more directly felt between China and the U.S. A U.S. surveillance plane was recently warned by the Chinese Navy to stop patrolling near reefs China claims in the Spratly Island area.
Still, Carter, while maintaining his warning that the U.S. would fly or sail wherever international law allowed, also noted strengthening ties between the nations' militaries. Admiral Sun focused his speech on presenting China as a "reliable friend and sincere partner" to developing countries and a nation seeking to cooperate.
Next Step
Throughout the three-day forum, Chinese officials talked about their country as being beset by unreasonable neighbors intent on foiling its rights to the islands. China claims about 80 percent of the South China Sea based on a nine-dash line drawn on a 1940s map.
"Both sides seem to be wanting to find a way to pipe down," said Ong Keng Yong, executive deputy chairman of the S. Rajaratnam School of International Studies and Singapore's non-resident ambassador to Iran and Pakistan. "Since America is not regarded as aggressive, China also took one step back, but where is all this leading to? Both are trying to measure each other's position and see what's the next possible step."
Some of the remarks from Sun and Carter show why tensions in the South China Sea will remain. Carter on Saturday called for an "immediate and lasting halt to land reclamation by any claimant" and said the U.S. would continue its patrols. A day later, Sun said China would resist any effort to subjugate it.
Shipping Lanes
Protecting freedom of navigation resonates in the region region because the South China Sea hosts more than $5 trillion of shipping each year and is home to about a 10th of the world's annual fishing catch. Parts of the waters are also claimed by Vietnam, Philippines, Brunei, Malaysia and Taiwan.
While China says its artificial islands will be for civilian use - from search-and-rescue operations to marine meteorological forecasting - it also says they'd have military purposes, and it reserves the right to declare an air defense identification zone over the area.
Satellite images show the construction of an airstrip big enough to handle the largest of China's military aircraft, while two mobile artillery pieces have been detected on a reef.
China's turning rocky outcrops or reefs into a "full airport," while putting weapons on them is a militarization that hasn't occurred before, Australia's Defense Minister Kevin Andrews said in an interview.
"There has to be a halt to this kind of destabilizing activity," said Bonnie Glaser, a senior adviser for Asia at the Washington, DC-based Center for Strategic and International Studies. "There is insufficient agreement among all the nations about how to move forward."
Air Zone
Whether China establishes an air defense identification zone over the South China Sea depends "on whether our security in the air and maritime area will be threatened and to what extent," said Sun, who is deputy chief of the general staff in the People's Liberation Army.
Sun declined to directly address a flurry of questions about China's policy after his speech, citing time constraints. He was mobbed by reporters as he left the ballroom.
Chinese officials attempted to take the moral high ground during the forum, presenting themselves as victims in the South China Sea, pushed and provoked despite attempts to promote stability. A senior Chinese colonel on Saturday accused the Philippines of "bullying" at the Scarborough Shoal in 2012.
"Part of the Chinese message was that whether or not you agree with our policy on our territorial claims, the greater good is for you to engage with us economically to mutual benefit, and let's not have a difficult conversation," said Ben Barry, a defense analyst at the International Institute for Strategic Studies in London.
"Behind the polite and restrained message was there any hint of concession?" he said. "No."
For more, read this QuickTake: Territorial Disputes
Before it's here, it's on the Bloomberg Terminal.
LEARN MORE