'San Andreas' Shakes Its Way to No. 1 in Box-Office Debut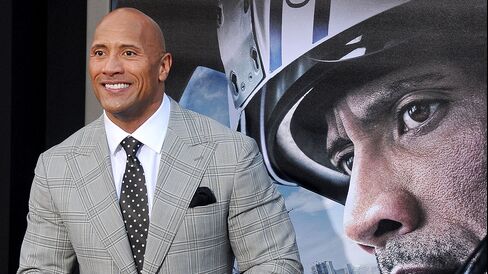 "San Andreas," the disaster movie from Warner Bros., rocked its way to the top of the North American box office in its debut this weekend.
The earthquake movie starring Dwayne Johnson pulled in $53.2 million at theaters in the U.S and Canada, Rentrak Corp. said Sunday in an e-mailed statement. It easily beat the other new release of the week, the Sony Pictures romance "Aloha," which opened in sixth place with sales of $10 million, and the returning films "Pitch Perfect 2" and "Tomorrowland."
Disaster pictures have been a popular genre for studios for generations, bolstered in recent years by special-effects technology. Box Office Mojo, an industry researcher, lists almost 50 going back to the 1975 feature "The Hindenburg," as the start of its record-keeping. The high mark for a weekend disaster opening was Warner Bros.' "Godzilla" with $93 million in domestic revenue last year.
"People want to go to the theater and have that fun escapist experience from the safety of their movie seat," Paul Dergarabedian, a senior media analyst at Rentrak, said by phone from Los Angeles. "That escapism really makes for a great popcorn-movie experience and that's why 'San Andreas' over-performed."
In the film, the famous California fault triggers a 9-plus magnitude earthquake, unleashing chaos and destruction from Los Angeles to San Francisco. Johnson plays Ray Gaines, a fire department search-and-rescue pilot who makes a dangerous journey across the state to rescue his daughter Blake, played by Alexandra Daddario, and his estranged wife Emma, played by Carla Gugino.
Ticket Forecast
Johnson, known as "The Rock," takes on the role after his success in "Furious 7." Paul Giamatti also stars as a Caltech seismologist.
"This is Dwayne Johnson's largest opening solo project and it really sets him up," Dan Fellman, president of domestic distribution for Warner Bros, said in an interview. "He is the four-quadrant, larger-than-life movie star."
BoxOffice.com had forecast $37 million in weekend receipts in the U.S. and Canada. "San Andreas" cost $110 million to make, according to the studio, a sum that doesn't include marketing costs.
Even with the film playing on real earthquake fears on the U.S. West Coast, 19 out of 20 of Warner Bros' top grossing theaters for the film were in Los Angeles or San Francisco, Fellman said.
"The West Coast blew everyone anyway," he said.
Critics Split
Brad Peyton, whose credits include "Journey 2: The Mysterious Island," which also featured Johnson, directed the effects-heavy film. Critics were split, with 49 percent positive reviews, according to Rottentomatoes.com, which tallies comments in the media.
"The technology also has a way of stripping such spectacles of impact and interest," A.O Scott wrote in the New York Times. "And we have seen so many of them recently that it's hard not to shrug, stifle a yawn and reach for the popcorn when the Golden Gate Bridge once again buckles and sways and drops vehicles into the bay."
"San Andreas" is one of 11 movies that Time Warner Inc.'s film unit is rolling out this season. Unlike previous summers, the studio is going without a big franchise film. The company's "Mad Max: Fury Road," a reboot of the series from the 1980s, has taken in $115.9 million in domestic theaters through May 29, and in July Warner Bros. releases a sequel to its 2012 male stripper hit "Magic Mike."
'Aloha' Debut
"San Andreas" fared better with critics than Sony Corp.'s "Aloha." Described by its director and writer Cameron Crowe as a "love letter to Hawaii," the romance had 18 percent positive reviews, according to Rottentomatoes.com.
"Aloha" missed BoxOffice.com forecasts for weekend sales of $14 million, landing in sixth place.
The picture features A-list talent. Bradley Cooper stars as Brian Gilcrest, a military contractor returning to Hawaii, where he once had a great career working for the U.S space program. Now he is working on a satellite launch with billionaire Carson Welch, played by Bill Murray.
In a complex plot, Gilcrest must negotiate land rights with the locals and is chaperoned in the process by Allison Ng, a fighter pilot played by Emma Stone, with whom he falls in love. Returning to Hawaii also means re-connecting with an old flame, played by Rachel McAdams.
To entice fans, Sony posted eight minutes of the film online for viewers to watch this week.
Among returning films, "Pitch Perfect 2," from Comcast Corp.'s Universal Pictures landed in second place and garnered $14.8 million. Walt Disney Co.'s "Tomorrowland" placed third, with sales of $13.8 million.
Weekend sales for the top 10 films fell 19 percent to $128.1 million from a year earlier, Rentrak said. Sales for the year to date have increased 3.4 percent to $4.32 billion.
The following table has U.S. movie box-office figures provided by studios to Rentrak. The amounts are based on actual ticket sales for May 29, May 30 and estimates for Sunday.
                    Rev.    Pct.             Avg./   Total
 Movie             (mln)    Chg. Theaters  Theater   (mln)  Wks
================================================================
 1 San Andreas      $53.2    na    3,777  $14,089     53.2   1
 2 Pitch Perfect 2   14.8   -52    3,660    4,055    147.5   3
 3 Tomorrowland      13.8   -58    3,972    3,475     63.2   2
 4 Mad Max           13.6   -45    3,255    4,186    115.9   3
 5 Avengers: Ultron  10.9   -50    3,228    3,383    427.1   5
 6 Aloha             10.0    na    2,815    3,552     10.0   1
 7 Poltergeist        7.8   -66    3,242    2,406     38.3   2
 8 The Madding Crowd  1.4   -38      902    1,574      8.4   5
 9 Hot Pursuit        1.4   -62    1,446      947     32.4   4
10 Home               1.2   -34    1,088    1,057    170.4   10



Top 10 Films Grosses



     This Week     Year Ago      Pct.
     (mln)         (mln)       Chg.
===================================
     $128.1        $157.7     -18.7



Year-to-date Revenue



     2015          2014
     YTD           YTD        Pct.
     (mln)         (mln)       Chg.
===================================
     $4,322        $4,180      +3.4


Source: Rentrak Corp.
Before it's here, it's on the Bloomberg Terminal.
LEARN MORE