Lightning Reach Stanley Cup Finals With 2-0 Defeat of Rangers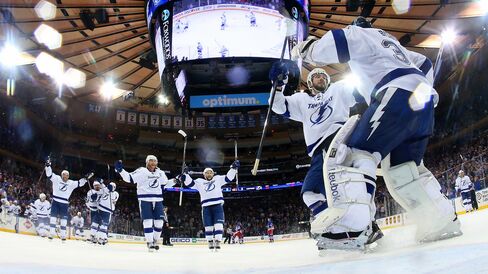 Alex Killorn and Ondrej Palat scored third-period goals and the Tampa Bay Lightning advanced to the Stanley Cup Finals with a 2-0 victory against the New York Rangers.
The Lightning next will face the survivor of the Western Conference finals between the Anaheim Ducks and Chicago Blackhawks, which is tied 3-3 heading into Saturday's Game 7 in Anaheim.
The victory in Friday's decisive Game 7 at Madison Square Garden gave the Lightning a 4-3 win in the Eastern Conference finals. The Rangers won Game 6 in Tampa to force Friday night's showdown.
The Rangers had won a seventh game at home in the previous series against the Washington Capitals, advancing on an overtime goal by Derek Stepan.
Ben Bishop stopped 22 shots for his second straight shutout at Madison Square Garden. Rangers goalie Henrik Lundqvist, who had been 10-0 at home when facing postseason elimination since 2008, made 23 saves.
The Lightning return to the Stanley Cup Finals for the first time since 2004, when they won a seven-game series against the Calgary Flames.
The Rangers finished the regular season with an NHL-best 53 wins. One of the big decisions facing the Rangers this offseason will be the status of 39-year-old Martin St. Louis, whose 21 regular-season goals were tied for second most on the team. St. Louis is a free-agent this offseason and has said he wants to remain with the team.
Owned by Madison Square Garden Co., the Rangers are worth $1.1 billion, second most in the NHL according to Forbes Magazine's annual valuations.
Before it's here, it's on the Bloomberg Terminal.
LEARN MORE