Defiant Blatter Blames Europeans for Blocking FIFA Reform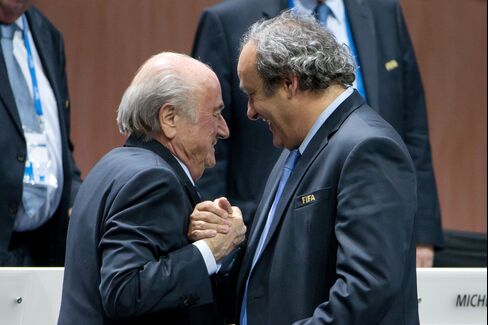 European soccer officials are blocking reform at the sport's global ruling body, FIFA President Sepp Blatter said a day after surmounting a corruption scandal to win his fifth term in office.
UEFA President Michel Platini asked Blatter to resign on Thursday, a day after Swiss police arrested two current FIFA vice presidents and five other officials. Blatter, who wasn't charged and said Saturday he isn't concerned about being drawn into the investigations personally, said unlike FIFA, UEFA doesn't have an independent ethics committee.
A plan for "better moral control" of FIFA officers "was downgraded at the request of UEFA," Blatter said in a press conference in Zurich.
Blatter accused UEFA of dodging its responsibility after former Manchester United Chief Executive Officer David Gill refused a seat on the executive committee and didn't attend a meeting Saturday.
"If you are elected, you must come," no matter who is president, Blatter said. "Europe has the biggest competition and the richest players. UEFA needs FIFA and FIFA needs UEFA."
Gill, who is vice chairman of England's Football Association and a member of the UEFA executive committee, said he recognizes that Blatter was democratically elected and wished FIFA success "in tackling the many troubling issues it faces."
"The terribly damaging events of the last three days have convinced me it is not appropriate to be a member of the FIFA Executive Committee under the current leadership," Gill said in a statement on the FA website. "My professional reputation is critical to me and I simply do not see how there will be change for the good of world football while Mr. Blatter remains in post."
Before it's here, it's on the Bloomberg Terminal.
LEARN MORE