Blatter Blasts Foes in U.S., Europe After Winning Fifth Term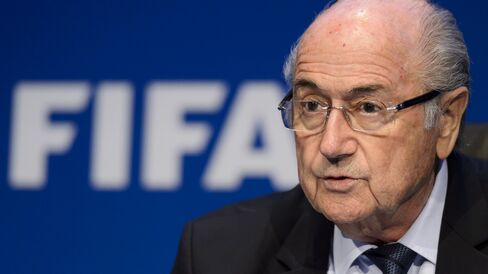 Sepp Blatter attacked critics in the U.S. and Europe after winning the top job at soccer's governing body even amid criminal investigations targeting his organization.
Blatter said he isn't concerned about being drawn into the case by U.S. prosecutors who indicted 14 people on charges of racketeering, wire fraud and money laundering. Swiss police arrested seven FIFA and regional soccer officials on May 27 and raided its Zurich headquarters in a separate investigation.
"Everyone is responsible for their own ethical and moral behavior," Blatter said Saturday in Zurich after meeting with the executive committee. "I, as FIFA president, cannot speak on behalf of others."
The 79-year-old won a fifth term Friday, giving him four more years to head the not-for-profit group, which collected almost $5 billion from running last year's World Cup in Brazil. Though his win was less emphatic than the 92 percent support he garnered when running unopposed in 2011, Blatter emerged from an unprecedented scandal firmly in power, even if the image of world soccer was once again severely tarnished.
In an interview with Swiss broadcaster RTS hours after his victory, Blatter said he was "shocked" at the allegations made by U.S. Attorney-General Loretta Lynch. Between the timing of arrests on the eve of the election in Zurich and the fact the U.S. lost a bid for the 2022 World Cup, "it doesn't smell good," he told RTS.
Blatter said in the press conference he wasn't involved in the bribery scandal concerning former FIFA vice president Jack Warner, who was indicted this week.
Blatter also directed his ire at European soccer officials at regional governing body UEFA, who called for him to step down after the U.S. case.
"We wanted to introduce a better moral control of the members but in this reform process it was then downgraded upon the request of UEFA," he said. Members of the executive committee are elected by FIFA's six regional confederations, while the group's 209 members vote for the president.
133 Votes
With 133 votes to his opponent's 73, Blatter was short of the two-thirds needed to win outright in the first round. However Prince Ali bin al-Hussein of Jordan withdrew before a second round that required a simple majority. Three ballots were invalid.
Blatter tapped loyalty from dozens of soccer outposts in Africa and Asia to head off a challenge that appeared to gather momentum in the days leading up to the election. U.K. Prime Minister David Cameron also called for Blatter to step down, and sponsors including Coca Cola Co. said FIFA should resolve the scandal.
Blatter said FIFA has been in touch with its sponsors and the group plans personal visits to allay their concerns.
Former Manchester United Chief Executive Officer David Gill said he wouldn't take up his seat on the executive committee after last week's events. He holds the same post with UEFA.
"My professional reputation is critical to me and I simply do not see how there will be change for the good of world football while Mr. Blatter remains in post," Gill said in a statement on the website of England's Football Association, where he is vice chairman.
Gill was one of three executive committee members to miss the meeting, including Alfredo Hawit Banegas of Honduras and Brazilian soccer federation President Marco Polo del Nero, who left Switzerland Thursday before the vote for "personal reasons," Blatter said. His predecessor, Jose Maria Marin, was among the officials arrested in Zurich.
Before it's here, it's on the Bloomberg Terminal.
LEARN MORE