Welcome to New Zealand, the Land of Disappearing Sheep
Flock drops to the lowest it's been in 75 years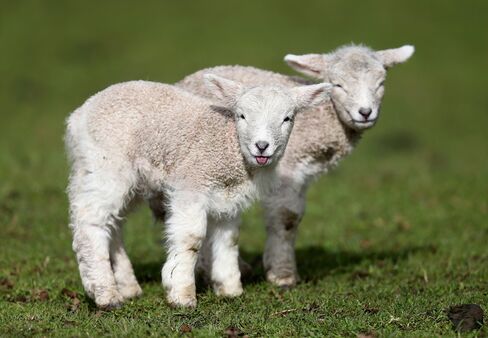 Once upon a time there were 20 sheep to every Kiwi. Now it's more like seven to every New Zealander. Blame cows, which are now bringing home the bacon.
Huge tracts of flatland once used for sheep farming were converted to dairy pastures as the global price for butter and cheese increased, while demand for sheep meat and wool waned, said Susan Kilsby, a dairy analyst at AgriHQ in Wellington.
"Returns for dairy have been substantially better than for a traditional sheep and beef farming operation," she said.
The chart below shows how milk-producing cows now contribute far more to New Zealand's economy than sheep, cows for beef and grains combined.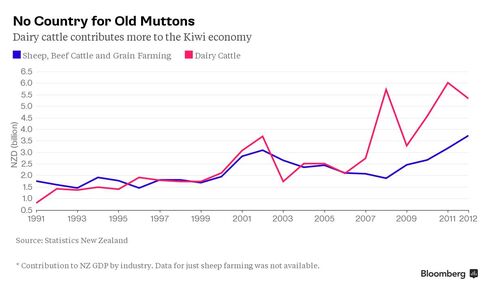 There were other factors at play, too. The removal of subsidies for sheep farming in the mid-1980s exposed ranchers to market forces, explained Adrienne Egger, an agriculture analyst at Beef and Lamb New Zealand, an organization representing farmers. New irrigation projects also made dairy farming possible for the first time in many parts of the country, AgriHQ's Kilsby said (cows raised to produce milk are real water guzzlers).
In the camp horror classic `Black Sheep' a flock runs amok after some genetic engineering. The tagline read: "There are 40 million sheep in New Zealand and they're PISSED OFF!" Fact is, there are far fewer sheep than that.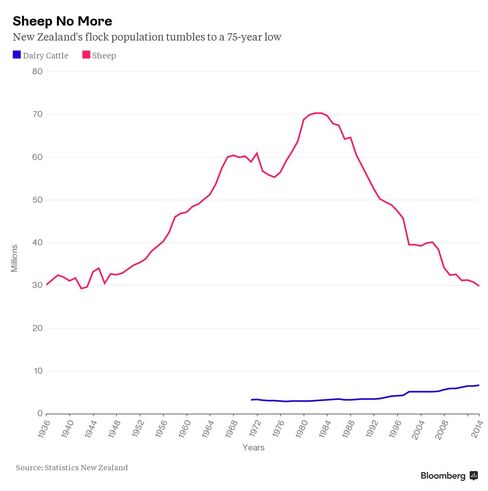 What is true is that thanks to some genetic improvements, productivity has improved.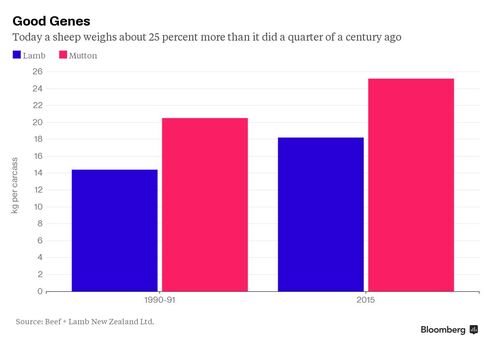 For ranchers who stayed the course, it's paying off.
Lamb prices at the farm-gate rose 85 percent in real terms and mutton prices more than doubled from 25 year ago. China, once a market for low-value cuts, has rapidly emerged as a major importer of Made in New Zealand — moving up from eighth place to second between 2008 and 2013.
"In 2014, China was the largest single country market by volume of lamb,'' Eggers said.
For more on the global economy, check out Benchmark:
Before it's here, it's on the Bloomberg Terminal.
LEARN MORE