U.S. Marketing Executive Pleads Not Guilty in FIFA Case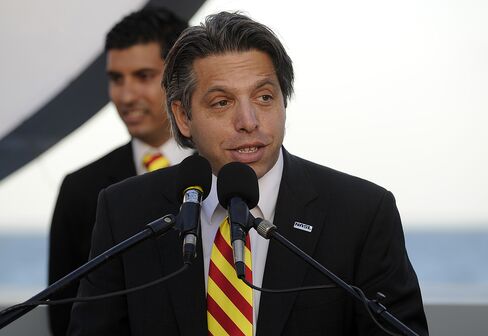 A U.S. sports marketing executive charged in a sweeping corruption probe of international soccer officials was freed on bail after pleading not guilty, in the first appearance in an American court of 14 defendants.
Aaron Davidson, 44, president of Traffic Sports USA Inc., a subsidiary of Sao Paulo-based Traffic Group, is accused of helping the company funnel bribes to soccer officials. He was arrested Wednesday morning in Miami.
FIFA officials and sports executives were charged in a 47-count indictment unsealed Wednesday. A federal grand jury charged them with racketeering, wire fraud and money laundering.
The Justice Department vowed more arrests in a widening investigation. Switzerland is probing whether anyone broke laws in awarding tournaments to Russia and Qatar. The U.K.'s Serious Fraud Office said it's examining material it had gathered relating to soccer corruption and bribery, without specifying what kind of evidence it has.
Davidson entered his plea before U.S. Magistrate Judge Cheryl Pollak in Brooklyn, New York, Friday. Pollak allowed him to remain under electronic monitoring in his Miami condominium under a $5 million bail package proposed by prosecutors.
Wearing a blue oxford shirt and gray pants, Davidson stood before the judge next to his lawyer, Michael Hantman, and said little during the arraignment. Hantman declined to comment after the hearing.
According to the government, Davidson, referring to the practice of paying bribes to obtain commercial rights at tournaments, told a co-conspirator: "Is it illegal? It is illegal. Within the big picture of things, a company that has worked in this industry for 30 years. Is it bad? It is bad."
FIFA Election
Davidson's court appearance came the same day Sepp Blatter won a fifth term as president of FIFA, the world soccer's ruling body. The 79-year-old's opponent, Prince Ali bin Hussein of Jordan, withdrew before a second-round ballot.
Prosecutors alleged that sports executives paid more than $150 million in bribes and kickbacks to officials with FIFA and other soccer organizations over more than two decades in order to obtain lucrative media and marketing rights to international tournaments.
U.S. Attorney General Loretta Lynch said Wednesday that the defendants paid bribes to determine "who would televise the games, where the games would be held, and who would run the organization overseeing soccer worldwide."
Sealed Court
In December 2014, Traffic founder Jose Hawilla, 71, pleaded guilty in a sealed Brooklyn courtroom and admitted that he agreed to pay millions of dollars in bribes to secure the rights to Copa America tournaments in 2015, 2019, and 2013, as well as a special one in the 2016 in the U.S., known as Copa America Centenario. Prosecutors said Davidson played a role in that scheme and two others.
In 2013, Hawilla created a new firm, Datisa, with two other companies, that obtained the rights to the tournaments, according to the government. In exchange for a $317.5 million contract for rights to the four tournaments, they also agreed to pay $100 million in bribes, Hawilla admitted.
At least $40 million has been paid to date, according to the indictment unsealed Wednesday. Hawilla agreed to forfeit $151 million.
Davidson is charged with money laundering, wire fraud, money laundering conspiracy, wire fraud conspiracy, racketeering conspiracy and obstruction of justice. If convicted he faces as long as 20 years in prison.
A Texas native, Davidson had a reputation as a charismatic champion of soccer in South Florida, according to the Miami New Times. His parents, who have a home in Dallas, and his wife were in court during the arraignment.
Assistant U.S. Attorney Darren LaVerne said Davidson has a net worth of about $1.3 million and doesn't own property outside the U.S.
The case is U.S. v. Webb, 15-cr-252, U.S. District Court, Eastern District of New York (Brooklyn).
Before it's here, it's on the Bloomberg Terminal.
LEARN MORE