Investors Seem to Love Greek Stocks Despite the Never-Ending Talks
While Greece's future as a borrower is in doubt, what's certain is that investors keep betting on its stock market.
A sixth month of inflows to the U.S.-listed Global X FTSE Greece 20 exchange-traded fund has sent its market value to a record, according to data compiled by Bloomberg. The country's benchmark ASE Index is poised to end May with gains, even after falling two straight days.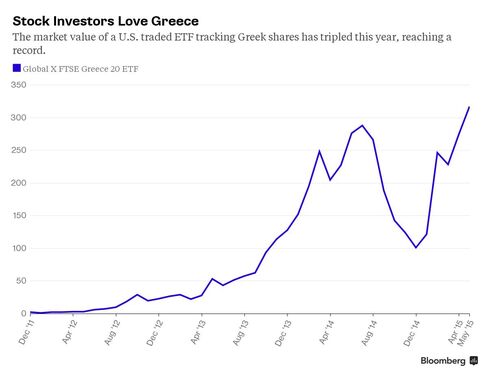 Investors are taking a flier on a stock market that has been almost four times more volatile than the rest of Europe in 2015. It's proven to be a good strategy since April, with the ASE heading for its first back-to-back monthly gains in more than a year. The gauge is beating Germany's DAX Index and France's CAC 40 Index this quarter.
"The ECB has been very forthcoming in providing liquidity to the Greek banking system and has not been very punishing to Greece," said Thanassis Drogossis, head of equities at Athens-based Pantelakis Securities. "They don't want to push Greece over the cliff. If there is a deal, the market has potential to go even higher."
Greek lenders led the advance in May, with Attica Bank surging 42 percent and Piraeus Bank SA jumping 28 percent. Never mind the fact that deposit withdrawals worsened and companies including National Bank of Greece SA and Alpha Bank AE reported quarterly losses. A gauge tracking the nation's lenders has rebounded 58 percent from an all-time low in April.
The U.S.-traded ETF received $22 million in May. Its market value has more than tripled in 2015 and reached a record $321 million this week, while its short interest is near its lowest level since 2013, according to data compiled by Bloomberg and Markit.
That's even with Greece still under pressure to commit to an overhaul of its finances in exchange for additional financial aid. The nation hasn't said how it will make the almost 1.6 billion euros ($1.75 billion) in payments to the International Monetary Fund scheduled for next month, with the first transfer due June 5.
Before it's here, it's on the Bloomberg Terminal.
LEARN MORE