Billionaire Shanghvi's Sun Misses Profit Estimate on Ranbaxy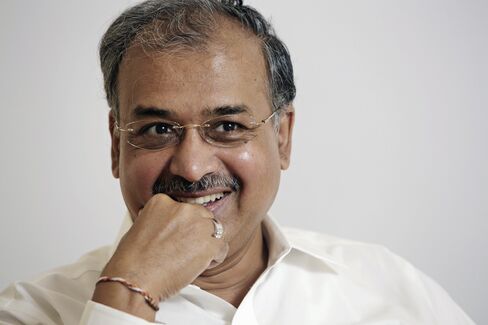 Profit at Sun Pharmaceutical Industries Ltd., India's largest drugmaker, missed analyst estimates as the cost of integrating Ranbaxy Laboratories Ltd. eroded margins.
Net income in the three months ended March 31 was 8.88 billion rupees ($139 million), which includes earnings of Ranbaxy. That fell short of the 17.5 billion rupee median estimate of four analysts surveyed by Bloomberg. The numbers aren't comparable with those from a year earlier, according to a statement from the Mumbai-based company.
Group sales were 61.4 billion rupees for the period versus a 75.1 billion rupee survey estimate. So-called other expenses more than doubled to 25.4 billion rupees. Costs of materials consumed doubled to 10.9 billion rupees.
"Our performance has been impacted due to various one-time charges, mainly on account of the Ranbaxy merger as well as due to price erosion for some of our products in the U.S.," founder and Managing Director Dilip Shanghvi said in the statement.
Shanghvi has a net worth of $20 billion according to the Bloomberg Billionaires Index and is Sun Pharma's largest shareholder.
Sun shares rose 1.2 percent to 966.1 rupees in Mumbai Friday. Earnings were released after the close of trading. The stock has climbed 17 percent this year, compared with the 1.2 percent gain in the S&P BSE Sensex Index.
Ranbaxy Integration
Sun Pharma, which is the world's fifth-biggest generic drugmaker with the purchase of Ranbaxy, faces the challenge of resolving U.S. import bans on four of Ranbaxy's Indian facilities while maintaining its profitability.
"There was a significant increase in other expenses, a lot of that might be regulatory fees related to the Ranbaxy integration," said Hitesh Mahida, an analyst at Antique Stock Broking Ltd. in Mumbai. "Their margins were significantly lower than expected."
Ranbaxy's then-parent Daiichi Sankyo Co. in April last year agreed to sell its controlling stake in Ranbaxy to Sun. The deal came after the Tokyo-based company had taken writedowns on the Indian drugmaker, seen its own share price slide and failed to improve manufacturing conditions at the unit to levels that would pass muster with the U.S. Food and Drug Administration.
Before it's here, it's on the Bloomberg Terminal.
LEARN MORE