Republicans Order Records in New Attack on FSOC Transparency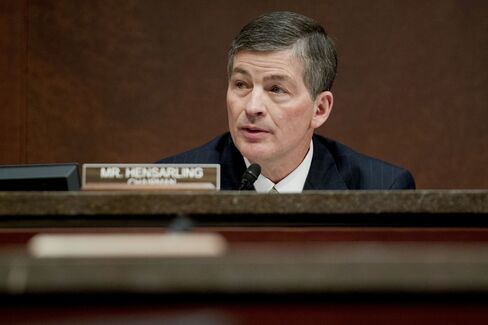 Republican lawmakers stepped up their criticism of a council of U.S. regulators that rules on which companies pose a potential risk to the financial system, and demanded documents showing how those decisions are made.
Representative Jeb Hensarling, chairman of the House Financial Services Committee, and the heads of five of the panel's subcommittees sent a letter dated May 26 to Treasury Secretary Jacob J. Lew complaining of "serious deficiencies" in how the Financial Stability Oversight Council decides which companies are systemically important. Lew is the FSOC's chairman.
The lawmakers asked Lew for non-public records concerning the council's decisions to label certain companies systemically important. They also requested records disclosing the reasons why the council decided not to advance certain companies in the designation process.
Companies deemed systemically important are subject to Federal Reserve oversight, which can include tougher capital standards. The FSOC, whose voting members include Fed Chair Janet Yellen, has designated four non-banks as meeting that criteria: insurers American International Group Inc., Prudential Financial Inc., and MetLife Inc., and General Electric Co.'s finance arm. MetLife is appealing the decision in a federal court.
The department received the letter and will respond, Treasury spokesman Daniel Cruz said Saturday in an e-mail.
Before it's here, it's on the Bloomberg Terminal.
LEARN MORE