PGA Tour Makes 104-Yard Hole a Par 3 as Gary Woodland Hits Ace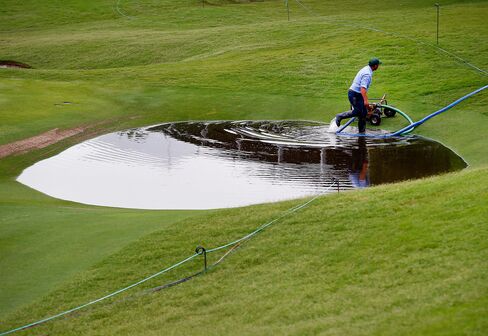 The U.S. PGA Tour changed its mind, deciding to make a hole shortened to 104 yards because of flooding a par 3 after initially leaving it as a par 4.
After 4.5 inches of rain fell overnight at TPC Four Seasons Resort in Irving, Texas, site of the Byron Nelson tournament, the tour shortened the 406-yard 14th hole to 104 yards because the fairway was deemed unplayable. It initially said on Twitter that the hole would remain a par 4, which would keep scorecards and leaderboards in line with Thursday's opening round.
Shortly after Gary Woodland hit what would have been the second par-4 hole-in-one in tour history, it said on its website that officials had decided to call the hole a par 3. There was no mention of the initial decision.
"The river was already halfway up the fairway," said Slugger White, the PGA Tour's vice president of rules. "All it is is just silt out there now. We had a full case of beer out in the middle of the fairway that flooded out of the concession tent that was on the 11th tee. It had to flow probably about 130 yards."
The decision is in effect for just the second round, though more rain is in the forecast, the tour said.
Three-Hour Delay
Play began Friday after a three-hour delay, with players teeing off at the 14th short of a water hazard, which sits toward end of the fairway in front of the hole. Woodland didn't need his putter.
"Call it whatever type of bird you want," the tour said on Twitter. "Gary Woodland just made an ace at the shortened 14th."
Australian Steven Bowditch took a two-shot lead into Friday's round after opening with an 8-under-par 62.
Andrew Magee hit the only par-4 hole-in-one, at the 2001 Phoenix Open, holing out a 332-yard drive at TPC Scottsdale's No. 17.
The opening-round scoring average at the 14th was 4.284. Twelve percent of the golfers made birdie and 29 percent bogey.
Before it's here, it's on the Bloomberg Terminal.
LEARN MORE