Hennessy Focus Beats 94% of Peers With Stocks Like O'Reilly Auto
Detective work helps managers identify companies with growth-driving competitive advantages.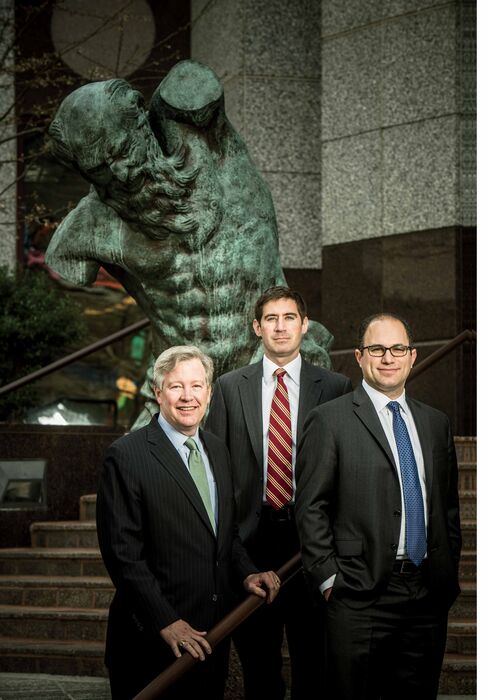 When the managers of the Hennessy Focus Fund invest in publicly traded shares, they try to think like business owners.
Instead of trading in and out of a stock to rack up small gains, David Rainey and his co-managers, Brian Macauley and Ira Rothberg, look to buy companies they can hold—for years.
The low churn of the $1.7 billion fund backs them up on that, Bloomberg Markets reports in its June issue. "Our turnover in the fund averages less than 15 percent a year," Rainey says. That implies a holding period of 6.5 years, he says.
The managers add only three or four stocks to the fund in a normal year and sell out of three or four others, Rothberg says.
The fund held shares of only 21 companies at the end of March. "Our sweet spot is 20 to 30 names," says Rainey. "We concentrate our capital in our best ideas. The top 10 holdings are about 65 percent of assets."
That concentration is paying off. The Hennessy Focus Fund returned 17.9 percent annually, net of fees, for the five years ended on May 27. That track record topped 94 percent of peer funds, according to data compiled by Bloomberg. By contrast, the Standard & Poor's 500 Index returned 16.7 percent during the period. For three years, the fund gained 20.6 percent annually, and for one year, 19.5 percent. This year through May 27, it returned 5.7 percent.
The roots of the Hennessy Focus Fund go back to 1997, when Chuck Akre started the FBR Focus Fund. Under Akre, it earned one of the best records among U.S. mutual funds. After Akre left to create another fund in 2009, Macauley, Rainey, and Rothberg, who'd all been analysts for FBR Focus, took over as co-managers.
In 2012, Hennessy Funds bought the fund, and the three managers set up their own shop, Broad Run Investment Management in Arlington, Virginia, to subadvise it. Publicly traded Hennessy Advisors—which is headed by founder Neil Hennessy—manages a total of $6 billion in 16 funds.
Macauley, Rainey, and Rothberg look for companies with a secret sauce—a competitive advantage that will help them to grow earnings by a factor of three to five times over a 10-year horizon, Rainey says. "That's a midteens rate of return," he says. "But that's a compounded rate of return."
Finding such companies involves detective work, Rothberg says, the goal of which is to figure out what enables some businesses to earn outsize profits for an extended time. "What is the nature and source of their sustainable competitive advantages?" he says. "What types of returns are they going to earn on incremental capital they deploy?"
Such research helped make O'Reilly Automotive, the third-largest U.S. supplier of aftermarket car parts, the fund's largest holding. "What differentiates them is they have a unique distribution infrastructure that allows them to provide the highest fill rate and speed of delivery to their professional customers," Rothberg says. The fund has owned Springfield, Missouri–based O'Reilly since 2005.
"If you're a mechanic, you get the car up on the lift, and you see you need parts A, B, and C," Rothberg says. "You call up your favored distributor, and you say, 'When can you get me these parts and do you have all of them?'" If a store doesn't, it won't remain favored for long, he says.
That's where O'Reilly's advantage comes in. "O'Reilly has many more distribution centers per store than their competitors," Rothberg says. A typical 7,000-square-foot (650-square-meter) retail store may have 25,000 SKUs, he says, referring to the numerical IDs used to track inventory items.
A distribution center—a warehouse that's much bigger—may have 120,000 SKUs. "To be able to offer a 99.5 percent fill rate, you need access to all that inventory that's in a big distribution center," he says. In the 10 years ended on May 27, shares of O'Reilly have gained an average of 23 percent annually.
Work on one investment may lead to another, Rothberg says. The fund holds shares of Penn National Gaming, which operates 20 casinos in places such as Charles Town, West Virginia. "As we learned more about what it took to optimize a regional casino floor, we learned a lot about equipping the casino floor," Rainey says. About 90 percent of that space is occupied by slot machines.
Slot machines led the managers to Bally Technologies. The reason: The company's software platform gave it an advantage over other slot machine makers by enabling gamblers to use player cards to earn bonuses such as free meals. "Bally realized years ago that not only could they perform slot accounting for the casino operators and the regulatory agencies, but they could build player interfaces into that enterprise-grade software system," Rainey says. "And then they built player bonusing."
Once in place, Bally's bonusing system made it hard for casino operators to replace its machines with those of another maker, Rainey says. Shares of Bally gained 14.4 percent annually over the five years before the company was purchased by Scientific Games in 2014. The fund collected its own bonus from Bally: the 36 percent premium that Scientific Games paid when it made the acquisition.
This story appears in the June 2015 issue of Bloomberg Markets magazine.
Before it's here, it's on the Bloomberg Terminal.
LEARN MORE