With the second half of the year approaching and most benchmark U.S. stock indexes posting meager gains in the 1 to 2 percent range, it's tough to get too excited about this market.
Unless, that is, you're sitting on shares that have already doubled so far this year. And believe it or not, they are out there: About 15 companies in the Russell 3000 Index are up more than 100 percent so far in 2015.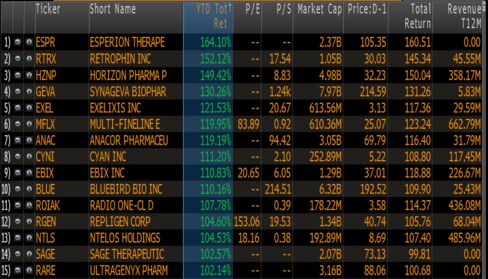 Hmm, you're probably thinking, are there any commonalities among them that would allow a journalist to write a trend piece on a lazy summer Friday? The good news is: yes! More than half of these members of the 100% Club have one thing in common: they are biotechnology companies working on medicines for rare diseases, also known as "orphan drugs."
The orphan drug designation comes with many perks: most of all sky-high prices and protection from generic competition for seven years. And the U.S. Food and Drug Administration has made no secret of the fact that it wants to stimulate development of orphan drugs, especially for sick children. As a result, the FDA approved a record 49 orphan drugs last year, according to the FDA Law Blog. As that blog said, "there's no indication of a slowdown any time soon," and drugmakers are on pace to break the record for the number of orphan drug designation requests.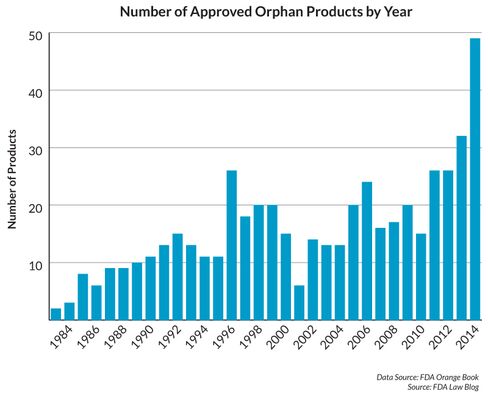 As recent reports from Bloomberg have shown, the hunt for rare-disease medicines has created a buying frenzy among dealmakers as takeover valuations jump to the highest in at least 20 years.
Investment banks have their favored lists of potential biotech targets. Goldman Sachs Group Inc.'s list in April included Alkermes Plc, Ariad Pharmaceuticals Inc., Atara Biotherapeutics Inc., BioMarin Pharmaceutical Inc., Clovis Oncology Inc., Synageva BioPharma Corp., Regeneron Pharmaceuticals Inc. and Vertex Pharmaceuticals Inc. That list, of course, has gotten shorter: Alexion Pharmaceuticals Inc. agreed to acquire Synageva for $8.4 billion this month, offering a 120 percent premium to the stock price.
With the Nasdaq Biotech Index up more than 20 percent this year, it's no wonder love for the group was all over the most recent survey from the American Association of Individual Investors even though more than 45 percent of those polled had a "neutral" opinion of the overall market for an eighth straight week. The health-care sector was viewed most bullishly, by far: It was embraced by about 35 percent of respondents with "favoritism shown toward biotechnology" and pharmaceuticals.
Of course, that much bullishness makes contrarians nervous. So it's easy to look at all of this and see a bubble, as Valeant Pharmaceuticals International Inc.'s famous deal-making Chief Executive Officer Michael Pearson said last week of recent mergers.
However, if this is a bubble, when and if it bursts may be harder to predict than others. Investing in young biotechnology companies, many of which have no earnings and in some cases no revenue, is obviously a much different game than traditional Graham & Dodd-style stock picking. When it comes to traditional fundamental analysis, this is where the sidewalk ends.
Before it's here, it's on the Bloomberg Terminal.
LEARN MORE