Five Things Everyone Will Be Talking About Today
The week isn't over yet, get caught up here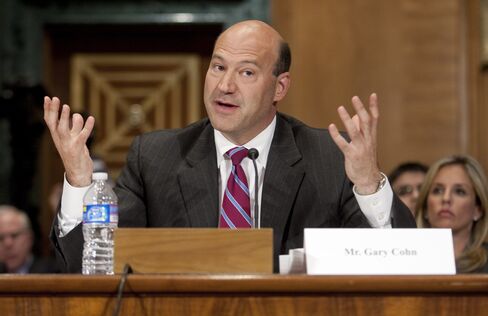 Japan limps into the second quarter, the franc surge rips into the Swiss economy and Pimco considered tapping up Goldman's Gary Cohn. Here are some of the things that people are talking about in markets today.
Japan's struggles continue
The economic data out of Japan this morning didn't quite stack up against an eleven day rally on the Nikkei 225. Household spending dropped in April, people left the job market and the Bank of Japan's key inflation gauge, stripped of fresh food and the effects of last year's sales-tax hike, slowed to zero. Japan's economy limped into the second quarter.
Swiss franc nightmare
January 15 was the day the Swiss National Bank ripped away its cap on the Swiss franc. You know what happened immediately after that. Here's some more of the fallout: Swiss GDP fell 0.2 percent in the first quarter, the biggest contraction since the financial crisis. As expected, the currency's appreciation is suffocating exports and ripping into Switzerland's economy.
G-7 frustration
Greece wasn't even on the official agenda at the G-7 in Germany but it hasn't stopped European officials venting their frustration at the lack of progress. Greek officials think a deal is close; Greece's creditors don't share the government's enthusiasm. French Finance Minister Michel Sapin told Bloomberg this morning that to achieve a deal in the coming days or even weeks, then talks need to accelerate. While the talks stumble on, European stocks are heading for a week of losses.
Pimco considered Goldman's Cohn
According to people with knowledge of the matter, Pimco considered recruiting Gary Cohn, the heir apparent to Lloyd Blankfein at Goldman Sachs, to succeed Mohamed El-Erian as chief executive officer. It was 2013 and the company, together Bill Gross, were said to be working on a succession plan.
Blatter shooting for 5
FIFA's presidential election is still going ahead despite the corruption scandal engulfing the sport and the head of UEFA calling for the process to be delayed. Blatter thinks he's the man to lead FIFA out of the mess, so he's pushing for his fifth consecutive term in office. Here's why a shift in the Caribbean camp means his reelection is not a done deal.
Before it's here, it's on the Bloomberg Terminal.
LEARN MORE