Deutsche Bank Plans to Boost Asia Asset, Wealth Staff Up to 10%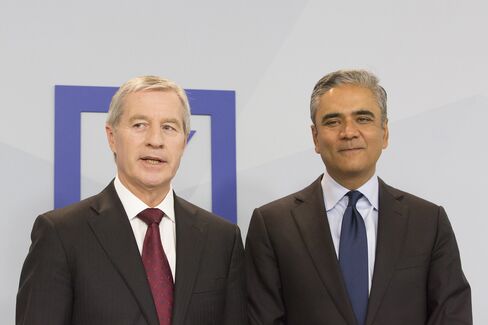 Deutsche Bank AG said it may boost the number of its asset and wealth management staff in Asia by 5 percent to 10 percent this year as part of the lender's revamped strategy to boost growth.
"We might do some bold moves to take Asia into the next growth phase," Ravi Raju, Asia-Pacific head of Deutsche Asset & Wealth Management, said in an interview in Hong Kong this week. Relationship managers and compliance and technology staff may be added to more than 800 employees in the region as the lender focuses especially on China, India and Indonesia, he said.
Wealth management is one of the few areas that Co-Chief Executive Officers Juergen Fitschen and Anshu Jain are expanding as part of the biggest strategic overhaul of their three-year tenure. Under a plan announced last month, the firm aims to sell part of its consumer-banking business and scale back the securities unit as it retreats from seven to 10 of the 70 countries in which it operates.
It plans to invest more than 1.5 billion euros ($1.6 billion) in the transaction banking, asset and wealth-management businesses as part of the strategic overhaul.
The firm may target clients in Asia with assets of between $5 million and $20 million when a digital banking platform is ready, Raju said.
Before it's here, it's on the Bloomberg Terminal.
LEARN MORE