Brazil Said to Have No Ceiling for Benchmark Rate Increases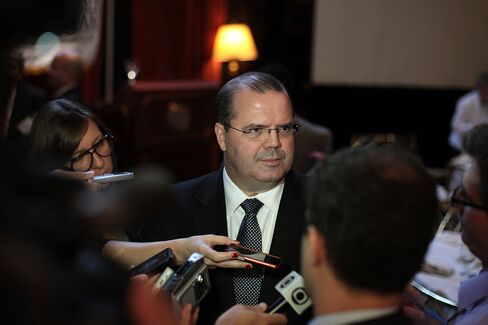 Brazil's central bank is still waiting for inflation expectations to drop to the center of the 4.5 percent target by the end of next year and have no limit to increase rates to reach that goal, a person close to the government economic team said.
Higher rates are not hurting the economy yet even as gross domestic product recorded a contraction in the first quarter, the person said Friday, asking not to be named because discussions are not public. In order to hurt the economy, the key rate would need to be above the theoretical neutral rate for the country, the person added.
Policy makers, led by central bank President Alexandre Tombini, have increased the so-called Selic rate by 2.25 percentage points over their last five monetary policy meetings to the current 13.25 percent. Traders and analysts forecast another half-point increase June 2-3. Tombini on Tuesday told congressmen that the advances made in fighting inflation are still not sufficient. It's far too early to even think about rate cuts, the person added. The central bank declined to comment when contacted by Bloomberg News.
Policy Alignment
Latin America's largest economy is poised to have the worst recession in 25 years at the same time the central bank is seen missing the inflation target for the first time since 2003. Economists surveyed by the central bank see consumer prices at 5.5 percent by December of next year. Tombini said monetary policy needs to remain vigilant to bring inflation to 4.5 percent by the end of 2016.
Finance Minister Joaquim Levy has vowed to improve Brazil's fiscal accounts after the worst budget deficit on record. He has increased taxes and lobbied Congress to approve measures to cut expenses and has frozen 69.9 billion reais ($22 billion) of this year's budget as austerity measures to avert the risk of a credit downgrade. Those measures have eased the central bank's task of curbing inflation, the person added.
The government's budget freeze should make the central bank's inflation target easier to reach, and Brazil's fiscal and monetary policies are aligned, the person said.
Before it's here, it's on the Bloomberg Terminal.
LEARN MORE