Thailand Says SE Asia Boat People Exodus at 'Alarming Level'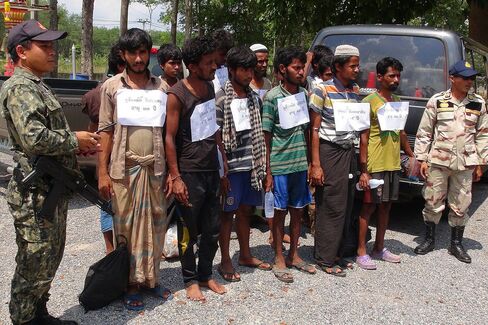 The influx of asylum seekers from Myanmar and Bangladesh has reached an "alarming level" and regional cooperation is needed to tackle the root causes of the crisis, Thai Foreign Minister Tanasak Patimapragorn said.
Tanasak gave the warning at a conference in Bangkok Friday where officials from 17 countries and international organizations are discussing a regional response to the swelling number of undocumented migrants attempting to make their way to Malaysia or Indonesia to escape persecution in Myanmar or economic hardship in Bangladesh.
A crackdown on human trafficking rings by authorities in Thailand and Malaysia in recent months left thousands of asylum seekers stranded at sea, risking a regional humanitarian crisis as governments debate how to address the issue.
"No country can solve this problem alone," Tanasak said in a speech. "More than ever, we need concerted efforts by all countries concerned, be they countries of origin, transit, or destination."
The United Nations and Western governments have called for Myanmar's leaders to do more to protect minorities after thousands of Rohingya Muslims fled the majority-Buddhist nation, where they are denied citizenship and have had their homes and businesses attacked in communal violence between the Buddhist community and Muslims in northwestern Rakhine state.
Myanmar, formerly known as Burma, is committed to alleviating the suffering of "boat people," Htin Lynn, a special representative of Myanmar's Ministry of Foreign Affairs, said in a speech at the event, adding that "you cannot single out my country" as the root cause of the crisis.
Temporary Shelter
Malaysia and Indonesia last week said they would provide temporary shelter to those stranded on overcrowded boats. Myanmar is "open-minded" and is attending the Bangkok meeting "with a spirit of cooperation," Htin Lynn said.
The U.S. Navy is conducting daily surveillance flights from Subang in Malaysia to locate boats carrying migrants, the U.S. State Department said in a statement Thursday. Thailand on Friday also agreed to allow the U.S. to operate flights from the country, Tanasak said. The U.S. said it will share information from these flights to indicate the sea routes used by smugglers and to help locate boats still at sea.
Governments should reach binding agreements to save people at sea, permit them to come ashore and ensure access to United Nations agencies to protect their rights as asylum seekers, Human Rights Watch said today in an e-mailed statement.
"The governments should also demand that Burma and Bangladesh take specific steps to end human rights abuses against the Rohingya that are causing them to flee on dangerous boats to escape persecution," Human Rights Watch said.
Before it's here, it's on the Bloomberg Terminal.
LEARN MORE