Blackstone Said to Get $3.5 Billion With Energy Debt Hot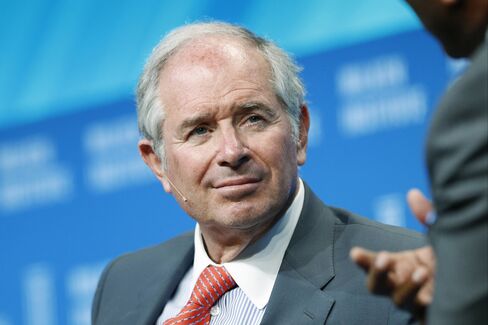 In a good problem to have, Blackstone Group LP had to say no to clients.
Investors sought to put more than $4.5 billion into the firm's first energy credit fund, two people with knowledge of the details said. Blackstone in the coming weeks will instead finalize the pool at $3.5 billion, the maximum to which it previously agreed, said the people, who requested anonymity because the close hasn't been announced.
Christine Anderson, a spokeswoman for the New York-based alternative-asset manager, declined to comment on fundraising.
While leveraged buyouts of energy companies have been sparse after the price of oil plunged by more than 50 percent, firms such as Blackstone, Oaktree Capital Group LLC and Apollo Global Management LLC are seizing on an opportunity to lend to stressed energy producers as banks balk. Blackstone co-founder Steve Schwarzman and Apollo co-founder Josh Harris, both speaking this week at a conference in New York, cited energy as among the busiest areas for their firms.
High-yield bonds of energy companies have declined 9.2 percent from July, when they peaked last year. In December they were down 20 percent from the high point.
"Even though we've had crude up $10 a barrel there's still some people who remember it at $115, and there are companies who really need credit," Schwarzman said Thursday at Sanford C. Bernstein & Co.'s strategic decisions conference. "Banks don't necessarily like to deal with certain complex situations, so we see a lot of opportunity" for GSO Capital Partners, Blackstone's credit arm.
'Large' Opportunity
Firms and their clients often agree to a maximum amount for funds, known as a hard cap, to prevent the pools from becoming too large to invest and manage according to the investors' risk and return objectives.
Apollo gathered $425 million in the first quarter for its first energy-focused credit vehicle. The New York-based firm hasn't disclosed the amount it's targeting for the fund.
"There is a very large opportunity in energy credit," Harris said Wednesday at the conference. "We can get very high returns for lending to these companies. Some of these companies are going to need a lot of money."
Blackstone's GSO division, which manages $75 billion in assets, generated 9.9 percent of the firm's revenue in 2014. Blackstone last week said Doug Ostrover, one of GSO's three founders, will leave to start a family office.
Before it's here, it's on the Bloomberg Terminal.
LEARN MORE