'Untouchable' Jacob Zuma Shrugs Off South African Scandals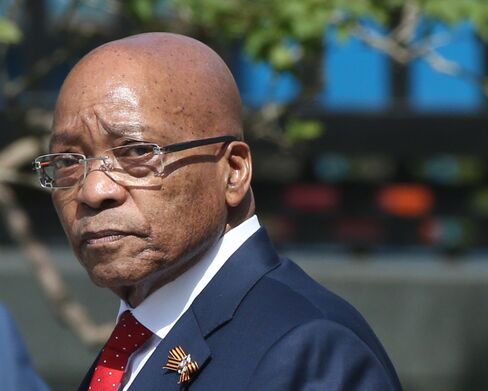 South African President Jacob Zuma is proving to be an ultimate political survivor.
Implicated in scandal after scandal throughout his political career, he's batted them all away.
He appeared to overcome the latest controversy on Thursday when the police minister absolved him of any blame for the squandering of taxpayers' money in a 215-million-rand ($17.7 million) upgrade of his private home. Prior to that, he escaped trial on charges of taking more than 700 bribes from arms dealers, was acquitted of rape charges and admitted he fathered a child out of wedlock with a friend's daughter.
The formula for his success is simple. Zuma dominates the ruling African National Congress, and the ANC controls South Africa. He has appointed allies to key posts and shored up his popular support by extending welfare grants to more than 16 million people, almost a quarter of the population.
"He is untouchable," Mzukisi Qobo, a politics lecturer at the University of Pretoria, said by phone on Thursday. "Those who have positions in government will remain silent because they will not want to lose the patronage they have. It's a vain hope to think that any leader or member of the ANC will stand up to him and not suffer consequences."
The ANC, which is still widely credited with ending white minority rule, has won more than 60 percent support in every election since the first multiracial vote in 1994. Zuma, 73, won a second and final five-year term in May last year, after the ANC won 62 percent.
Economy Struggles
Africa's second-biggest economy is struggling to recover from the slowest growth last year since a recession in 2009 as rolling blackouts by state-owned utility Eskom Holdings SOC Ltd. limit production. Gross domestic product grew an annualized 1.3 percent in the first quarter as factory output contracted 2.4 percent. The rand has weakened 14 percent against the dollar in the past year and traded at 12.1495 per dollar at 9:42 a.m. in Johannesburg.
The day before Police Minister Nkosinathi Nhleko cleared Zuma of misspending on his home in Nkandla in eastern KwaZulu-Natal province, the president stood at the podium in the National Assembly and mocked opposition party members who demand that he repay some of the money.
"Some people who could not pronounce Nkandla, they have now learned Nkandla, Nkandla, Nkandla," Zuma said giggling. "They have no substantive political issues to raise. It emphasizes the poverty of politics in our opposition parties."
Swimming Pool
While Public Protector Thuli Madonsela found that Zuma unfairly benefited from his home upgrade, Nhleko said the construction of a swimming pool and enclosures for his cattle and chickens were necessary security features.
Government officials and contractors were liable for misspending and cost overruns, Nhleko said, echoing the findings of a panel of ANC lawmakers.
"The fact is that a private residence has been turned into a state residence because the president does some state business from it," Ben Turok, a veteran ANC member and former chairman of Parliament's ethics committee, said by phone from Cape Town. "I am at a loss for words."
Opposition parties rejected Nhleko's findings and said they wouldn't allow Zuma to get away with what they considered the theft of public funds.
Zuma's Responsibility
"The minister's report demonstrates that President Zuma's henchmen will do anything to shield the president from his responsibility," Mmusi Maimane, the leader of the main opposition Democratic Alliance, told reporters in Cape Town on Thursday. "This battle is far from over."
In 2006, Zuma was acquitted on charges of raping an HIV-positive woman half his age, after the court accepted his testimony that she consented to sleeping with him.
Prosecutors dropped charges of racketeering, fraud, money laundering and tax evasion against Zuma in 2009 after his lawyer produced taped phone calls that indicated the chief investigator used the case to undermine his political career. Zuma denied any wrongdoing.
In 2010, he acknowledged fathering his 20th child out of wedlock and apologized to the nation for his lack of judgment.
The ANC has used its overwhelming majority in parliament to block two opposition motions of no confidence in Zuma. Armed police threw lawmakers of the Economic Freedom Fighters out of the National Assembly when they disrupted Zuma's annual state-of-the-nation speech.
"It shows the weakness of a political system when a party spends too long in power," Aubrey Matshiqi, a researcher at the Helen Suzman Foundation in Johannesburg, said by phone. "It becomes comfortable of its support base and its leadership become inured to the need of the ordinary citizens."
Before it's here, it's on the Bloomberg Terminal.
LEARN MORE