Yen Drops to 12-Year Low Versus Dollar as Policy Split Sharpens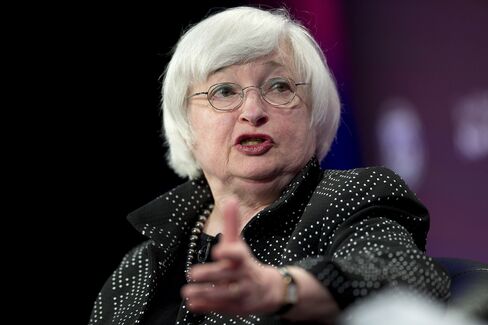 The yen fell to its lowest level in 12 years against the dollar as the monetary policies of Japan and the U.S. are seen diverging further, prompting debate among officials about whether the depreciation is too rapid.
The yen briefly pared losses after Japanese Finance Minister Taro Aso described the drop in recent days as "rough" at a Group of Seven meeting in Dresden, Germany. He said Japan would monitor foreign-exchange movements carefully.
"It's unclear whether he's concerned more about the pace or the fact the dollar-yen level is quite a bit higher," Brian Daingerfield, a currency strategist at Royal Bank of Scotland Group Plc's RBS Securities unit in Stamford, Connecticut, said by phone. "But any concerns from Japanese officials about the weakness of the yen rather than strength is something that could be a headwind for further dollar-yen upside."
The yen's decline comes as signals from the Federal Reserve that it's preparing to raise interest rates sharpened a split in policy with Japan's record stimulus. The dollar gained for a fifth day after a Labor Department report showed applications for U.S. jobless benefits remained below 300,000 for a 12th straight week, signaling employment trends remain firm.
The dollar advanced 0.2 percent to 123.95 yen at 5 p.m. New York time, and reached 124.46 earlier, the strongest level since December 2002. It fell 0.4 percent to $1.0949 per euro.
Range Trading
The yen's 30 percent drop since 2012 is driving record profits at Japan's biggest companies, helping the nation's stocks toward their longest rally since 1988.
BOJ Governor Haruhiko Kuroda reiterated this week that he'll adjust monetary stimulus if needed to meet his inflation targets.
The greenback, meanwhile, has strengthened versus all 16 of its major peers since May 22, when a report showed a key U.S. inflation measure rose faster than economists predicted and Fed Chair Janet Yellen said she expected to raise interest rates this year.
"The move has been mainly against the yen in terms of dollar strength," said Fabian Eliasson, head of U.S. corporate foreign-exchange sales at Mizuho Financial Group Inc. in New York. "The dollar will outperform for the rest of this year, though it's not going to be a one-way street. The rest of the world is still very much in an easing mode."
Gradual Decline
Japanese officials have expressed concern about the pace of the yen's decline, which has been spurred by an unprecedented bond-purchase program to help boost the economy.
"You will potentially get even more risk of jawboning by Japanese officials over the next couple of days," said Todd Elmer, a Singapore-based currency strategist at Citigroup Inc. "As the price action demonstrates, we're not going to see a huge impact from these comments, so long as the upward momentum on the dollar probably remains in place."
The yen will head toward 125 per dollar in the short term, Elmer said. It's already weakened past the 121 level forecast by strategists for the end of June.
Before it's here, it's on the Bloomberg Terminal.
LEARN MORE