People with HIV benefit from treatment with antiretroviral drugs as soon as they're diagnosed, rather than waiting until damage to their immune system is evident, researchers reported May 27. The findings, from a major global trial of HIV care, were so clear and compelling that scientists released them before the trial was complete. That almost never happens in medical research, and it's a sign that the evidence is overwhelming.
Current U.S. guidelines call for offering treatment to everyone at diagnosis. Unfortunately, the U.S. does a terrible job of getting people with HIV into treatment. Less than half the 1.2 million Americans with HIV are in care and have been prescribed antiretroviral therapy, according to CDC data: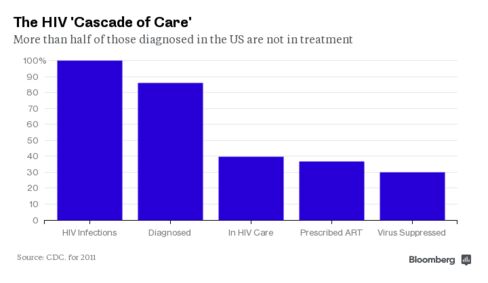 Most of those who are prescribed the medications have their viral load suppressed. Other countries where a greater percentage of HIV patients are in care have a greater share of people who have the virus under control.
The 35-country trial, funded largely by the U.S. National Institutes of Health, confirmed the benefits of early treatment. Researchers have been tracking 4,685 HIV-positive adults since 2011, all with apparently healthy immune systems. Half were randomly assigned to begin treatment immediately. The other half deferred treatment until a level of immune health, measured by a count of cells known as CD4+ or T cells, deteriorated.
After three years, the results were clear: Those who started treatment earlier did better. Their risk of serious illness or death was 53 percent lower than the group that waited. That's a big benefit by the standards of medical interventions, which are sometimes considered successful if they improve outcomes by just a few percentage points.
Antiretroviral medications also greatly reduce the odds that people with HIV will transmit the virus to others. That benefit is well established—medication that controls viral loads can virtually eliminate the chance of infecting a partner. That's why that big group of people in the U.S. who are diagnosed with HIV but not getting care account for a disproportionate share of new HIV infections: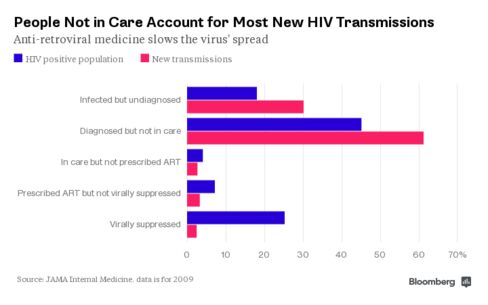 Many people newly diagnosed with HIV are disconnected from the health-care system. They may face stigma or other barriers to getting treatment. If they're asymptomatic, it may be easier not to seek care. This week's study results bolster the case that they should be treated right away.
Before it's here, it's on the Bloomberg Terminal.
LEARN MORE