U.S. to Vote for Ali, Blatter's Challenger, as FIFA President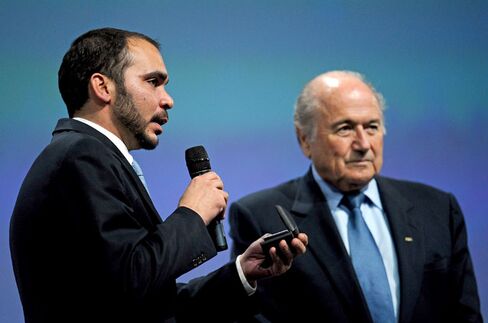 Vote of 209 member institutions to be held Friday in Zurich

Blatter is seeking fifth term in wake of corruption scandal
U.S. Soccer Federation President Sunil Gulati said the U.S. will be voting for Prince Ali Bin Al Hussein of Jordan as president of FIFA rather than incumbent Sepp Blatter.
Gulati had nominated Prince Ali in January and said the U.S. is one of several countries in Concacaf, the federation that oversees soccer in North and Central America as well as the Caribbean, that will be casting votes in favor of Blatter's challenger.
Friday's vote in Switzerland among the 209 member institutions comes two days after U.S prosecutors accused nine officials from soccer's governing body of money laundering, racketeering and kickbacks dating back to 1991. Blatter wasn't implicated by prosecutors.
"I've gotten to know him well over last couple years and he's a very active member of the executive committee and a very active proponent of reform at FIFA," Gulati said of Prince Ali on a media conference call from Switzerland.
The FIFA presidential vote requires at least a two-thirds majority in the first round of balloting, which is private. If that's not met, the winner would be decided by a simple majority in the second vote.
Blatter, 79, maintains support in much of Asia, Africa and South America, and is the favorite to win a fifth term.
Gulati said the main thing he was concerned with as the candidates outlined their agendas was governance.
"If you get good governance, you get good leadership, you make good decisions and those good decisions will lead to the right outcomes, whether it's where World Cups are played, how many teams are in World Cups or anything else," Gulati said. "For us, this is a vote for good governance."
Gulati said he expects an "interesting" election regardless of who may be viewed publicly as the probable winner.
"What's happening on the ground here is certainly very different than what may be viewed from the outside," Gulati said. "However, it's an election and a secret ballot. It's impossible to know for sure, but I think it will be a very competitive election."
Before it's here, it's on the Bloomberg Terminal.
LEARN MORE