U.S. Seeks Improved Nigeria Ties With Inauguration of President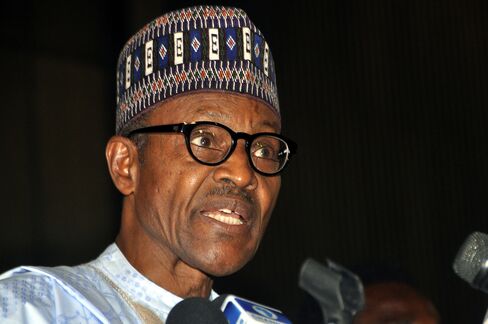 The U.S. sees the inauguration of Nigerian President Muhammadu Buhari as a potential springboard to improving security and economic ties long hindered by military abuses and endemic corruption.
Reflecting increased ambitions for relations with Africa's biggest economy, President Barack Obama sent Secretary of State John Kerry to Friday's ceremony for Buhari, marking the first lawful transition of power since British colonial rule ended in 1960.
The peaceful election defeat of President Goodluck Jonathan in March has been greeted by the U.S. and other nations as a success for democracy despite Buhari's earlier stint as the country's military dictator. Preliminary talks with Buhari's team suggest he wants to open a new chapter in relations with the U.S., according to a State Department official who briefed reporters under rules requiring anonymity.
With Nigeria fighting Boko Haram terrorists in its northeast, Kerry plans to discuss new security cooperation measures, the official said. That could include advisers to help with intelligence, military training, logistics and military justice, he said. The U.S. is restricted by law in providing lethal arms because of the military's human rights record.
The U.S. also is looking for ways to expand trade and investment, particularly after Nigeria's economy and its foreign exchange earnings have been hit by the drop in oil prices. Investment in oil and natural gas will remain important, but Nigeria's large and growing population offers opportunities for services, manufacturing and consumer goods, the official said,
'Anemic' Trade
"Except for gas and oil, which is huge, the economic relationship with Nigeria is pretty anemic," John Campbell, a former U.S. ambassador to Nigeria, said in an interview.
Expansion of trade and investment hinges on whether Buhari is able, as he promised during the campaign, to reduce the systemic corruption and improve the rule of law, including respect for contracts, the State Department official said.
Growth slowed to 4 percent in the first quarter from 5.9 percent in same period a year earlier. Africa's biggest crude producer, which derives 90 percent of export earnings from oil, has been hit by a decline in oil prices of about 45 percent since June. The naira has depreciated 10 percent against the dollar over the past six months, while foreign exchange has dropped by 21 percent from a year earlier.
Tackling Corruption
The West African nation has to import the bulk of its gasoline, diesel and kerosene for domestic use. This week a severe shortage of fuel saw planes grounded, offices shut, and queues for gasoline reaching up to 18 hours.
The "pat answer" is to tackle corruption, including at the national petroleum company and in the military, said Campbell, who is now a senior fellow at the Council on Foreign Relations in New York.
"The trouble with cleaning up corruption is that it takes time, and particularly when the corruption is structural, as it is in Nigeria, there are consequences," Campbell said. "So it's not easy."
The allegations against the military are particularly touchy for relations because a U.S. law known as the Leahy Amendment bars arms sales to systematic human rights abusers.
"There are tons of credible accusations of human rights abuses, and in fact the population in northeastern Nigeria has tended to be as frightened of the military as they are of Boko Haram," Campbell said.
In response to allegations of human rights abuses, the military has repeatedly denied or said it's investigating them
Blocking Helicopters
The U.S. angered Jonathan last year when it blocked the sale of American-made Cobra helicopters to Nigeria from Israel, which considered them surplus. In response, Nigeria halted a U.S. counterterrorism training program for a vetted Army battalion.
Kerry flew to Nigeria in January to press both Jonathan and Buhari to support fair elections and help prevent violence in the aftermath. Kerry said at that time that the U.S. would be prepared to do more to help Nigeria fight Boko Haram depending on the "credibility, accountability, transparency and peacefulness of this election."
Buhari won 52.4 percent of the ballots cast in the March 28-29 voting.
Before it's here, it's on the Bloomberg Terminal.
LEARN MORE