Skymark Airlines Said to Submit Restructuring Plan on Friday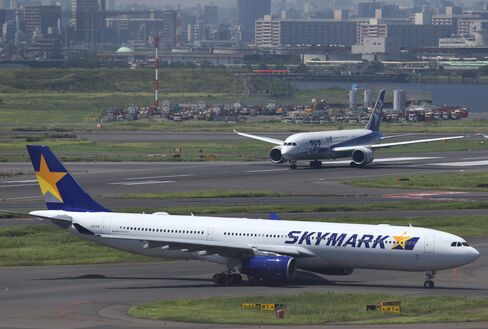 Skymark Airlines Inc. will submit its recovery plan to the Tokyo district court tomorrow, four months after it sought bankruptcy protection, people with knowledge of the situation said Thursday.
The plan calls for an investment of 18 billion yen ($144.8 million) in Japan's third-largest airline, with private-equity firm Integral Corp. -- which has been spearheading Skymark's turnaround -- holding 50.1 percent control of the company. ANA Holdings Inc. will have 16.5 percent, with the rest held by a fund to be created by the Development Bank of Japan Inc. and Sumitomo Mitsui Financial Group Inc., according to the people.
Skymark sought bankruptcy protection in late January with liabilities of about 300 billion yen. The airline has said it expects to show an operating profit by July.
Skymark will ask its creditors to accept a 5 percent repayment rate on its debts, with a creditors meeting to be held in July, the people said.
The carrier's two major creditors -- Airbus Group NV and Intrepid Aviation Ltd. -- are opposed to ANA's involvement, the people said. Skymark will do all it can to win the support of Airbus and other creditors ahead of the July meeting, the people said.
Airbus has demanded 85 billion yen in compensation for a canceled order of six A380 superjumbo planes, while Intrepid has demanded 104 billion yen from Skymark.
Takahiro Nosaka, a spokesman for Airbus Japan, said by phone that the company can't comment as the matter is in the courts.
Before it's here, it's on the Bloomberg Terminal.
LEARN MORE