Scandal Seen as FIFA's Mess as World Cup Brand Escapes Cleanly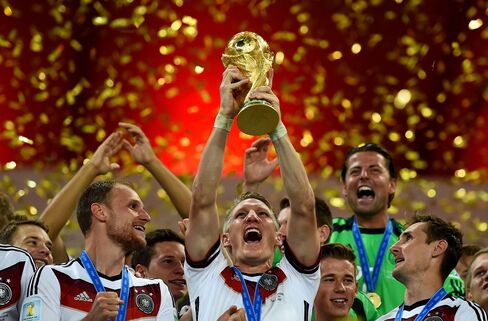 World Cup generates almost $5 billion in revenue for FIFA

Sponsors have 'separation' in supporting World Cup vs FIFA
Investigations into bribery, influence peddling and whether World Cup tournaments were sold to host nations certainly bruised FIFA, soccer's ruling body. Fans and sponsors won't desert the World Cup though. As franchises from Visa to Coca-Cola know, the world must have its football.
"The games will still get played and the people will still watch, even if there will be a lot of people around the world saying, 'This is not right,"' said Rick Burton, a former U.S. Olympic Committee chief marketing officer and commissioner of the Australian Basketball League.
The same goes for sponsors of the World Cup, which generated almost $5 billion in revenue for FIFA from its 2014 tournament in Brazil and had a cumulative worldwide television audience of 30 billion. Zurich-based FIFA says that about 90 percent of its revenue is generated through the sale of television, marketing, hospitality and licensing rights for the World Cup.
"Fans might be cynical about what's going on and you'll hear comments about it, but they won't stop watching," said Mark Friederich, the chief operating officer of Navigate Research, a Chicago-based sports sponsorship evaluation company.
Two current FIFA vice presidents were among 14 people indicted Wednesday by U.S. prosecutors investigating what they called "rampant" corruption in the sport dating to 1991. Swiss police arrested seven FIFA officials at a Zurich hotel Wednesday and charged nine officials -- but not FIFA President Joseph "Sepp" Blatter -- with corruption.
Documents Seized
Swiss authorities also seized documents at FIFA's nearby offices, saying they were examining possible crimes related to selecting Russia to host the 2018 World Cup and Qatar for 2022. The defendants are alleged to have paid more than $150 million in bribes and kickbacks to obtain media and marketing rights to soccer tournaments.
Sponsors such as Visa Inc., Coca-Cola Co. and McDonald's Corp. have had strongly worded reactions, though none have ended partnerships as a result of the soccer body's trouble.
Tiger Woods
While some of Tiger Woods's sponsors bailed after the golfer's marital infidelity scandal in 2009, Navigate's Friederich said FIFA's controversy is more akin to the off-field issues that embroiled the National Football League last season. Even after a series of high-profile domestic violence cases, NFL sponsorship revenue rose 7.8 percent, according to a study by sponsorship consultant IEG, and TV ratings remained as strong as ever.
"Technically they're sponsoring FIFA, but what they're really trying to do is use the marks and logos of the events FIFA is putting on," Friederich said. "So there is a separation between the two and the sponsors are supporting the World Cup and the sport of soccer. With Tiger Woods, they were supporting him directly. There's a buffer here."
FIFA Secretary General Jerome Valcke told Bloomberg in April that sponsors had spoken to FIFA about the bad press the corruption accusations had generated.
No Withdrawals
"There was never one call to me or Blatter saying 'Sorry guys, too much. Bye-bye,"' Valcke said. "I know there were questions. Their board, their directors, their members have asked a number of questions. But it never went to the level where they said 'Hey, let's pull out."'
Sony Corp. and Emirates Airline didn't renew World Cup sponsorship deals at the end of 2014 and FIFA is looking for replacements for those. None of the departing sponsors cited the scandals as a reason for leaving.
Blatter, who is seeking a fifth term as FIFA president, said Wednesday corruption has no place in the sport and that the governing body will ensure that those who engage in it are put out of the game. Blatter also said he can't monitor everyone all the time and that he's sure the investigation will turn up more bad news. The U.S. Justice Department has vowed more arrests in a widening probe of racketeering, wire fraud and money laundering.
Blatter Election
Blatter is poised to extend his 17-year reign at FIFA, with a vote scheduled for Friday, and his survival in his role may mirror that of NFL Commissioner Roger Goodell, who received the support of team owners during the league's domestic-abuse crisis. Both organizations have richly profited while they've been in charge.
Burton, now a sports management professor at Syracuse University, said he's interested to see Blatter's "damage control" and that further negative revelations could hurt the World Cup brand, even if fan interest is largely unaffected.
FIFA has said the World Cup, its signature event, will go ahead as planned with the 2018 tournament in Russia and the 2022 edition in Qatar.
"If the games are still going to go to Russia and Qatar despite the fact that it appears there's overwhelming evidence corruption was involved in those bids, then the World Cup brand is going to be dealing with: 'If it was so corrupt, why are you still going there?"' Burton said in a telephone interview. "If the games change, then you've got the World Cup in transition. It's not a great position to be sitting in."
Before it's here, it's on the Bloomberg Terminal.
LEARN MORE