Riksbank Faces Bond Shortage in Battle Against Deflation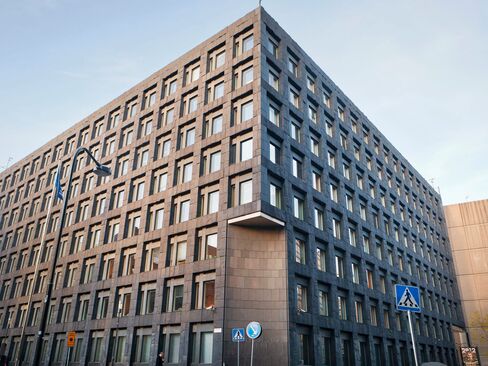 Some of the biggest banks in Scandinavia are warning that Sweden's Riksbank risks hurting bond market liquidity with its quantitative easing program.
Any efforts to expand asset purchases would deplete Sweden's already limited sovereign debt supply, according to SEB AB and Danske Bank A/S.
"We see wider bid-ask spreads, lower liquidity, lower volumes and lower liquidity in the inter-bank system, which makes it more difficult for market makers to manage their risk," Jussi Hiljanen, head of fixed-income strategy at SEB in Stockholm, said by phone. "I'm worried that liquidity in the Swedish bond market will be very low for the rest of the year."
The Riksbank targets about $10 billion in government bond purchases as part of its strategy to revive consumer-price growth after months of deflation. That's about 14 percent of the market or 3 percent of Sweden's gross domestic product.
The bank's main interest rate is minus 0.25 percent, the lowest in Swedish history. With the most recent inflation report showing an unexpected drop in consumer prices, Riksbank policy makers have talked up the option of doing more to reach their 2 percent inflation target.
In April, the bank signaled a preference for bond purchases over more rate cuts by expanding its QE program and ignoring market calls for lower rates. But given all the other forces driving down bond-market liquidity, the prospect of a renewed drain on supply is unsettling market participants.
Sinking Volumes
The total turnover of Swedish government bonds was about 30 percent lower in April than a year earlier, according to trading statistics from Nasdaq OMX. From April to May, it dropped a further 12 percent to 162 billion kronor ($19 billion).
"What's left as a free-float is an increasingly small share and there is then a risk that you end up with so little left that trading becomes very uneven," said Michael Grahn, an analyst at Danske Bank in Stockholm.
If policy makers need to continue QE, they should probably turn to mortgage assets, the banks say. SEB says there are already signs the Riksbank has started to consider such a step.
"The impression you get when you talk to the monetary policy department is that they don't want to sabotage market functioning," Hiljanen at SEB said. "If they increase the size of the current program, the likelihood is fairly high that they'll start to look at other interest bearing products" such as mortgage bonds and municipal debt, he said.
Grahn at Danske Bank notes that "mortgage bonds could provide an alternative because the market is twice as big as Sweden's government bond market."
But the concern with mortgage bonds is that the central bank risks fueling an already overheated housing market. For that reason, Governor Stefan Ingves "has been reluctant" to buy mortgage assets, Grahn said. "But on the other hand, I've heard other board members say that the reason they're buying government bonds is mostly just because that's the textbook example" of how to do QE, he said.
Before it's here, it's on the Bloomberg Terminal.
LEARN MORE