Renzi Heads to Vote Boasting of Jobs in Jeep With Marchionne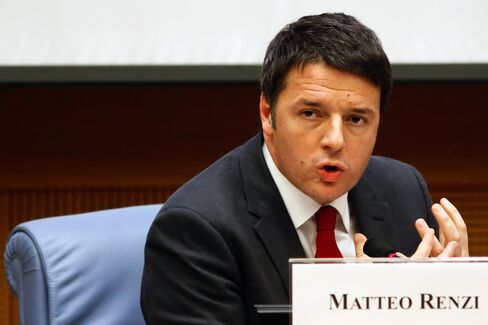 Four days before regional elections, Italian Prime Minister Matteo Renzi posed for selfies on a tour of a Fiat Chrysler Automobiles NV plant as Chief Executive Sergio Marchionne chauffeured him around in a red Jeep Renegade.
"You don't create jobs by going on talk-shows," Renzi quipped in a swipe to political rivals during his trip on Thursday to Melfi in the depressed south.
Renzi's visit to a symbol of Italian industrial might bears all the hallmarks of a confident leader trying to consolidate his power a year after becoming the country's youngest premier by taking credit for green shoots of recovery after a record-long recession.
The polls, due in seven out of Italy's 20 regions, come days after Spanish Prime Minister Mariano Rajoy suffered a series of stinging defeats at the hands of frustrated voters flocking to alternative parties such as anti-austerity Podemos, which seized control over Barcelona.
While Rajoy emerged chastised by elections and the market's reaction to the result, Renzi can expect a blessing from both. Faced with his own set of anti-establishment parties at home -- along with a dissident faction in his Democratic party (PD) and a corruption scandal over one of his candidates -- Renzi appears to offer an effective antidote.
"Renzi has so far proved a barrier to populism in Italy," Sergio Fabbrini, director of the school of government at Luiss university in Rome, said in an interview. "By taking on traditional leftists and criticizing European austerity from the inside, he has stolen oxygen from anti-establishment, anti-euro forces."
Opinion Polls
Federico Santi, an analyst with Eurasia Group in London, wrote in a briefing note that the latest opinion polls showed Renzi was likely to win in at least four regions, and might secure five, with over 35 percent of the vote, down from 40.8 percent in the European parliamentary elections of May 2014 yet still ahead of the Five Star Movement at 20-22 percent.
At campaign rallies across Italy, Renzi, 40, has defended an overhaul of the labor market that makes hiring and firing easier as "the most leftist thing of recent years." He's also called for "a third way" between fiscal belt-tightening and "the demagogy of everyone against the euro."
Even with the unemployment rate still rising, that kind of rhetoric removes the thunder from the opposition.
Berlusconi, Grillo
Ex-premier Silvio Berlusconi has said a return to the lira would be inevitable if the European Union failed to change, imitating the EU-bashing posturing adopted by the ex-comic Beppe Grillo of the Five Star Movement and by rising Northern League leader Matteo Salvini, who has called for an end to migrants crossing the Mediterranean to Italy.
Renzi can also point to investors backing his case. Deals are surging and Italian government bonds have so far shown no sign of contagion from Greece, albeit with a little help from his fellow Italian, Mario Draghi, at the European Central Bank.
The Italian 10-year yield was at 1.87 percent as of 9.48 a.m. in Rome. While that's 74 basis points higher than an all-time low reached in mid-March, the yield exceeded 7 percent at the end of 2011 when the euro-area debt crisis hit Italy under Berlusconi's watch, prompting him to quit.
Ligurian Challenge
The key tussle on Sunday will be in PD-led Liguria on the Riviera, where candidates include the official PD pick, a dissident rival, and Giovanni Toti, a potential heir to Berlusconi.
It remains to be seen how the whiff of scandal in his ranks may weaken Renzi, in particular in the Campania region of Naples held by the center-right where he has fielded Vincenzo De Luca, who has been convicted, pending appeal, of abuse of office. De Luca has dismissed the verdict as "absurd".
Renzi has rejected opposition accusations over De Luca's candidacy, saying his government had drafted a tough anti-corruption law, and cracked down on false accounting and money laundering.
"The figure I'll be looking at is the turnout," said Francesco Galietti, head of the Rome-based consultancy Policy Sonar. "We're dangerously close to a national holiday and if it's sunny people will head for the beaches, not the polls."
Before it's here, it's on the Bloomberg Terminal.
LEARN MORE