Poised for Revolution, Currency Trading Gets Veteran Combatant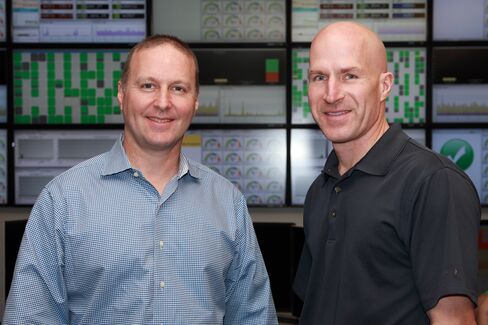 Bats Global Markets Inc. is betting on a revolution in currency trading like the one in stocks 20 years ago. It began its crusade with a $365 million acquisition followed by a price war.
The currency market "over the next three to five years is going through a structural change that won't come again," Bats Chief Executive Officer Chris Concannon said in an interview in the company's downtown Manhattan office. "It's equities in the 1990s."
Bats, via its Hotspot FX acquisition, faces rivals including Thomson Reuters Corp. and ICAP Plc's recently rebranded EBS BrokerTec venue. Bloomberg LP also operates a market. The competition is formidable: Hotspot had average daily volume of $28.4 billion in April while Reuters had $369 billion, including $118 billion of spot trading.
Concannon, who became CEO on March 31, knows about revolutionary market changes. From 1995 to 1997, as electronic upstarts were taking on the long dominant Nasdaq Stock Market and New York Stock Exchange, he was a lawyer at the Securities and Exchange Commission. He then joined one of the firms, a technologically advanced trading platform designed by a programmer named Joshua Levine called Island.
The company cut out Nasdaq brokers by pairing trades electronically and automatically cheaper than the traditional market. By 2003 Concannon had landed at Nasdaq, where he helped engineer a deal that gave the exchange Island's technology and market share.
Storefront Roots
Island's story isn't unlike that of Bats, which was founded in 2005 in a storefront more than a thousand miles from New York. It handles about one-fifth of all U.S. stock trading and a quarter of the European market with a fraction of the staff and costs of its rivals.
Bats upended the old order in the stock market with a trading engine built from scratch that today handles about 1.2 billion messages a day. Concannon is aiming to replicate his company's success in equities in the foreign-exchange market by using former CEO Joe Ratterman's approach: low-cost and customer friendly coupled with cutting-edge technology.
"The goal is to be No. 1 in every business," he said.
Concannon is gunning for growth at a company that saw its profit rise by 34 percent last year.
"Joe built up this company with this enormous global footprint with very few people," said Concannon, previously president at trading firm Virtu Financial Inc. "You won't find a more efficient exchange operator on the planet, and he built that."
Technology Edge
Earnings before interest, taxes, depreciation and amortization amounted to about $840,000 per person last year at Bats, which today employs about 250 people. Ebitda rose by 34 percent last year to $168 million, according to the closely held company.
Bats's edge has been its technology, according to Ratterman, particularly the fact that they designed their system with a clear idea of where the market was heading.
"We kind of showed up at a point in time where it was feasible the entire marketplace could run completely from an automated, electronic platform, and both NYSE and Nasdaq probably had loads of legacy still in their systems," he said in an interview.
While Concannon was the primary driver behind the $365 million purchase of Hotspot in February, it was the structure Ratterman built that made it feasible. As with the acquisitions of Direct Edge Holdings LLC last year and Chi-X Europe Ltd. in 2012 -- each for about the same price at Hotspot -- the newly purchased company's infrastructure will shift over to Bats technology.
Unprecedented Scrutiny
"We've added to the Bats model the largest asset class on the planet with 40 people," Concannon said.
The foreign-exchange market is under unprecedented scrutiny as six of the world's biggest banks recently agreed to pay $5.8 billion tied to currency-rigging probes. It's also becoming more electronic and more the domain of high-frequency trading.
Algorithmic trading was projected to account for 26 percent of currency turnover last year, compared with 65 percent for equities, according to consulting firm Aite Group LLC. In 2004, about 1 percent of foreign-exchange and 25 percent of stock trading was handled by programs.
Any success for Bats could also be a win for the biggest banks. Among the company's owners are Credit Suisse Group AG, Morgan Stanley and JPMorgan Chase & Co. Technology-focused traders such as Lime Brokerage and KCG Holdings Inc. also own stakes.
To win market share, Bats is offering free trading at least through the end of the year for traders who take the bid or offer on 30 currency pairs including the Russian ruble and Swedish krona. The company began trying to extend its reach when it announced a new hub near London earlier this year.
While Concannon's time in charge is only starting, he's long been part of the Bats story. While at Nasdaq, he sent a customer order to Bats that ended up as part of the first trade on the fledging stock market. To thank him for making the trade happen, Ratterman sent his eventual successor a gift: a toaster, which Ratterman's wife Sandy bought at Wal-Mart.
Before it's here, it's on the Bloomberg Terminal.
LEARN MORE