Mitsubishi Heavy Should Look to the Skies to Double in Size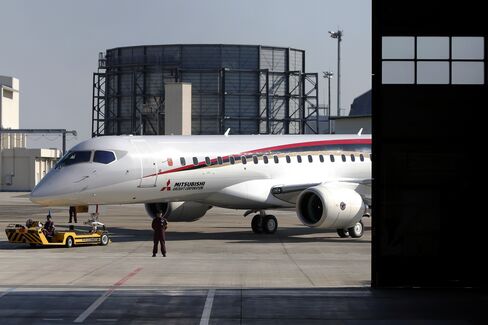 Mitsubishi Heavy Industries Ltd. wants to double its market value to keep pace with the companies it calls its mega-competitors, General Electric Co. and Siemens AG.
The $22 billion company's recent success has centered around power systems, building the turbines and pumps for thermal and nuclear plants that now account for 40 percent of revenues from a quarter a decade ago.
To get bigger, it needs another pillar to drive earnings. And that could mean refocusing on an aviation business that once spawned perhaps Mitsubishi's most famed product, the Zero fighter plane of World War II.
Aviation, which along with shipbuilding, accounts for 13 percent of Mitsubishi's revenues, is one of the top candidates for expansion, according to Yoku Ihara, president of Growth & Value Stock Research. Becoming a global planemaker would allow it to capture air traffic growth as Boeing Co. expects worldwide demand for new planes will reach $5.2 trillion over 20 years.
"It's an industry with overwhelming growth expected," Ihara said. "Particularly, potential demand for planes in Asia."
The 130-year-old company, which traces its origins to the shipyards of Nagasaki in southwestern Japan, unveiled the nation's first passenger jet after a delay of almost four years in October, and expects to conduct test flights this year. The company's other products encompass defense and space, including submarines and rockets, and heavy machinery.
Losing Out
Mitsubishi, which partners with Hitachi Ltd. in its power business, saw its ambitions stall last year after it lost out to GE in a bid for France's Alstom SA. It was a deal that could have catapulted the Japanese company into the same league as GE in terms of power systems.
While the company hasn't backed off power as an engine for growth, the failure exposes the relative weakness of its other businesses in terms the size and profitability.
"Its business units outside power aren't competitive enough, which explains why the scale of their sales and profits isn't like that of GE and Siemens," said Ihara. "You can make money if you have the world's top-level products. It is of no big help to have many businesses ranked third or fourth globally."
It was at a briefing on a new business plan this month that Mitsubishi's president, Shunichi Miyanaga, said he wanted to at least double the company's value, without specifying a timing. After increasing capital by paring extraordinary charges, Miyanaga intends to further embark on mergers and acquisitions, he said.
'Bold Restructuring'
"We intend to take bold restructuring measures to raise our positioning," he said. "Since it's a sensitive matter, I cannot say any concrete plans at this moment."
Despite the lack of details, investors like the sound of it. Since the briefing, the shares have risen 18 percent to 792.6 yen, the highest since August 2007. Sixteen out of 21 analysts rate the company buy and five rate it hold, according to data compiled by Bloomberg.
Mitsubishi probably has about 500 billion yen ($4 billion) available to fund acquisitions, according to Masanori Wakae, an analyst at Mizuho Securities Co.
Miyanaga's aspiration sits with a more precise goal of raising revenues to 5 trillion yen and operating income to 450 billion yen by March 2018, from current levels of 4 trillion yen and 300 billion yen.
Doubling its market capitalization will only nudge Mitsubishi closer to GE, valued at almost $280 billion, and Siemens' near-$100 billion.
Still, even if "there's no need to be something similar to GE and Siemens, size matters when the company has to compete over a big M&A or a big order," said Yunchao Zhao, an analyst at Credit Suisse Securities (Japan).
Before it's here, it's on the Bloomberg Terminal.
LEARN MORE