Israel Facing Soccer Expulsion Vote Amid FIFA Corruption Scandal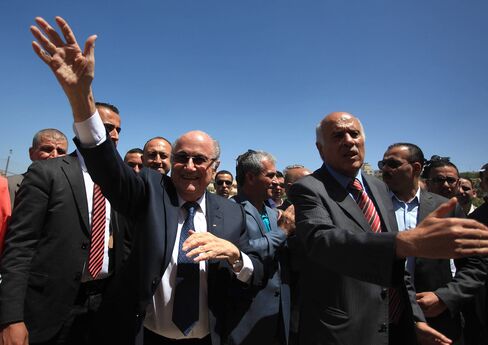 Palestinians vowed to push for a vote Friday to ban Israeli soccer teams from international play, while Israeli officials tried to use the corruption scandal roiling the sport's governing body to discredit the effort.
The Palestinian Authority wants the FIFA congress in Zurich to suspend Israel from the group, saying Israeli travel restrictions on Palestinian soccer personnel and other actions violate the association's rules. Israel's Football Association says it's worried that influence-peddling may be a factor in the Palestinian drive to oust it from FIFA.
"Instead of defending the FIFA values and regulations, the Israeli Football Association has opted to play politics and become a tool for the political program of colonization and apartheid," Palestinian Football Association head Jibril Rajoub said in an e-mailed statement.
The Palestinian campaign against Israel at FIFA is part of a broader effort to isolate it diplomatically and win international support for Palestinian statehood in the absence of peacemaking. For FIFA, it comes at a tumultuous time, with U.S. prosecutors indicting more than a dozen soccer officials this week on charges including racketeering, money-laundering and bribe-taking.
FIFA's 209 member associations are also set to vote Friday on the re-election of its head Sepp Blatter, who wasn't named in the U.S. indictment but has been accused of tolerating a culture of corruption.
Some Israeli officials are concerned that graft may also play a role in the moves to kick Israel out of the group.
'Dirty Game'
"I know that certain Arab states are doing everything they can to get Israel expelled," said Israel Football Association spokesman Shlomi Barzel, speaking by phone from Zurich. "There's a very dirty game being played here, things that go against everything FIFA says it stands for in terms of fairness." He offered no evidence to back up his claims.
An Israeli government official, who wasn't authorized to comment on record, also questioned whether votes were being bought on behalf of the Palestinians. He, too, offered no evidence of any wrongdoing.
This isn't the first time Israelis and Palestinians have sparred over the politics of soccer. Last August, Israel's ambassador to the United Nations, Ron Prosor, challenged FIFA's decision to hold the 2022 World Cup in Qatar, given its support for the Islamist Hamas. The Palestinian group, which rules the Gaza Strip, is classified as a terrorist organization by Israel, the U.S. and the European Union.
Mediation Efforts
Blatter has spent the past month trying to keep the move to ban Israel off FIFA's agenda. The soccer chief visited Israel and the West Bank last week, meeting with Israeli Prime Minister Benjamin Netanyahu and Palestinian President Mahmoud Abbas in an effort to forge a compromise.
Blatter said Netanyahu agreed to several measures to address Palestinian grievances, including easing movement for Palestinian soccer personnel through Israeli security checkpoints and between the West Bank and Gaza Strip; and tax exemptions for imported soccer equipment.
These concessions haven't satisfied the Palestinians, who among other things want to bar teams from Jewish West Bank settlements.
"We are going ahead with the vote tomorrow," Palestinian Football Association Secretary-General Abdel-Majeed Hijjeh said by phone on Thursday. "There will also be demonstrations across the West Bank today in support of the move."
Suspending Israel from FIFA would require the approval of 75 percent of its member associations, Blatter said while in Jerusalem. A vote can't be blocked if the Palestinians put it on the agenda, he said.
"I don't know how the vote will go," said Barzel, the Israeli soccer association spokesman. "Every five minutes we're hearing something different here."
Before it's here, it's on the Bloomberg Terminal.
LEARN MORE