Hong Kong's Leung Calls for End to Election Debate as Vote Nears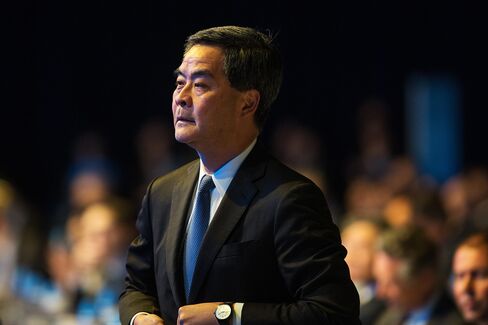 Hong Kong Chief Executive Leung Chun-ying asked lawmakers to end debate over electoral reforms as a vote nears so the city can focus on its slowing economy.
Lawmakers should support the bill to allow residents to vote for the city's leader in 2017, Leung told the Legislative Council on Tuesday. It is unlikely that China will change the proposal, which calls for candidates to be vetted by a 1,200-member election committee, he said.
A vote on the proposal may take place as early as next month, with pro-democracy lawmakers pledging to block the plan after tens of thousands of protesters clashed with police last October to demand wider election rights. Leung needs at least four legislators to cross the divide to get the two-thirds majority needed to pass the bill.
"Whatever the outcome of the vote, Hong Kong cannot afford endless argument over political reforms," Leung said. "We must make up the lost time on economic and livelihood issues."
Under the proposal unveiled April 22, candidates need to secure majority support from the nominating committee, which pro-democracy lawmakers said is stacked with China loyalists.
Should lawmakers fail to agree to the plan, Leung's successor would be picked by a committee of tycoons, lawmakers and industry representatives, as it has been since the last British governor left in 1997.
Some 44 percent of respondents in the city supported the government's election proposal, according to a survey conducted jointly by the University of Hong Kong, the Chinese University of Hong Kong and the Hong Kong Polytechnic University. About 37.1% opposed it in the survey conducted from May 19 to May 23.
Before it's here, it's on the Bloomberg Terminal.
LEARN MORE