Here's How Big of a Deal the World Cup Is to Qatar
No wonder the stock market has been falling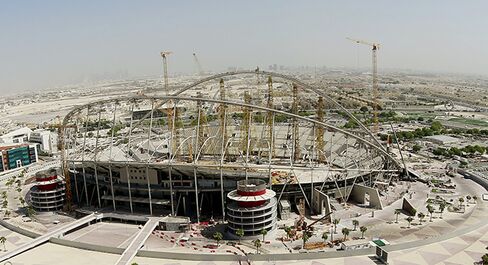 Qatar's stock exchange has fallen more than four percent in the last two days, since the arrest of nine top officials at soccer's global governing body on Wednesday morning. The criminal charges are just one part of a wide-ranging corruption probe at FIFA, that includes a Swiss investigation into bribery related to the awarding of the 2018 and 2022 World Cups, the latter of which will be hosted in Qatar.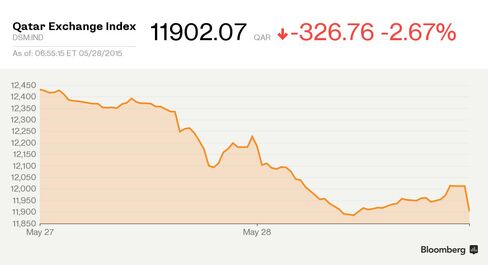 Although FIFA insists the Qatari tournament will go on as planned, their bid to host the games is under new scrutiny and there are already calls for a revote in order to select a new host for the 2018 and 2022 Cups. If the scandal should spread to reach as high as FIFA president Sepp Blatter (who faces a re-election to that post on Friday) the possibility of a new vote grows larger. A re-vote would almost certainly result in the Cup being moved to another country.
That would be a huge blow to Qatar's future. The Middle Eastern nation is reportedly spending close to $200 billion on various infrastructure projects before 2022, including the construction of nine new air conditioned stadiums and major renovations to three more. That's about 18 times more than has been spent by any previous World Cup host and ten times more than what Russia plans to spend on their World Cup in 2018. The entire Qatari GDP in 2013 was a little over $203 billion.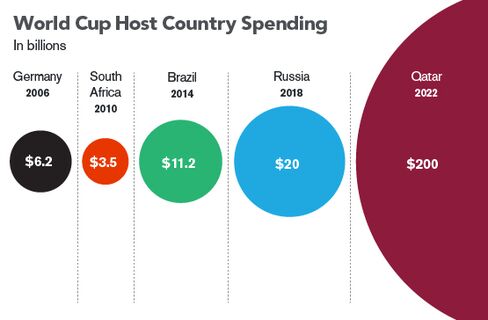 The corruption scandal is not the only controversy facing the 2022 World Cup. Fans are already up in arms that the traditional mid-year tournament will have to be held in December — interrupting the regular season of most of the world's professional soccer leagues — in order to avoid playing games in the punishing summer heat. Even more damaging to the Qatari cause are multiple reports that most of the World Cup construction is being completed with the use of cheap or unpaid migrant laborers, hundreds of whom have already died working on various projects.
Before it's here, it's on the Bloomberg Terminal.
LEARN MORE