Hanergy's Li Says Talk of Regulatory Probe 'Purely Rumor'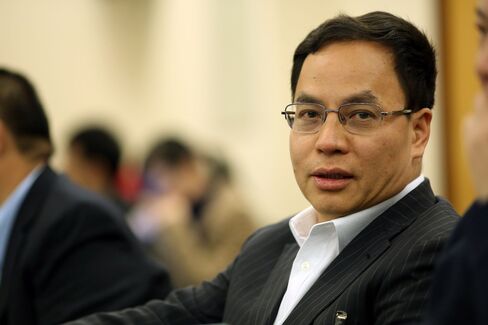 The chairman of Hanergy Thin Film Power Group Ltd., the solar developer at the center of a $19 billion stock market rout, dismissed reports of a regulatory probe into the company as "purely rumor."
"It's not possible," Chairman Li Hejun said in a television interview conducted by the state-run Xinhua News agency and posted on website Youku.com. "I should know and I didn't know."
The Hanergy group is under the spotlight after shares in Hong Kong-listed unit Hanergy Thin Film crashed on May 20, tumbling almost 50 percent in little under half an hour. The company's value had soared in recent months to about six times the level of the biggest U.S. solar manufacturer, First Solar Inc. of Tempe, Arizona.
Li has drawn criticism for forgoing Hanergy's annual general meeting in Hong Kong on the day of the crash in favor of delivering a speech at the opening of a solar exhibition center in Beijing.
Even before Hanergy Thin Film's shares plunged, the solar manufacturer's business model was under scrutiny. Hanergy makes thin-film solar panels using equipment from Hanergy Thin Film. In January, the Financial Times newspaper questioned why the bulk of Hanergy Thin Film's sales were to the Beijing-based parent, Hanergy Holding Group Ltd.
Hanergy's production levels, borrowings and relationships with lenders have also been questioned.
Bank Lending
"Hanergy will never owe banks interest," Li said in the Xinhua interview.
Hanergy Thin Film is yet to officially address the decline, since the shares were suspended. Immediately after the meltdown, the company said that it was preparing an announcement "containing inside information." No subsequent statement has been made.
The trigger for the plunge still isn't known. Hanergy's parent said on May 21 that all is well and operations are normal. The Hanergy group statement, which was posted on its website, didn't address Hanergy Thin Film's fall.
Li's comments to Xinhua came after Reuters reported on May 20 that Hanergy Thin Film was under investigation for market manipulation by Hong Kong's Securities and Futures Commission. The regulator earlier declined to comment on the Reuters report.
Market Value
Under Li's stewardship, Hanergy Thin Film's stock had surged more than sixfold in the past year, making it the world's most valuable solar company worth more than HK$300 billion ($38.7 billion). That was larger than Sony Corp.
Even with Hanergy's decline, the company is still valued at HK$163 billion, more than four times bigger than First Solar. First Solar and Japan's Solar Frontier K.K. dominate the market for thin-film solar cells.
In an interview in March, Li called the company's investments cautious and said the run-up in the stock was validation of the solar-maker's focus on a new era of mobile energy.
"All of our plants, if reporters can go and see, are putting on extra shifts and are in full production," Li told Xinhua. "We're in big production. It's very, very, very good. Hanergy is in its best shape since it started."
Before it's here, it's on the Bloomberg Terminal.
LEARN MORE