Google Debuts One-Stop-Shop for Ads Touting Apps on Smartphones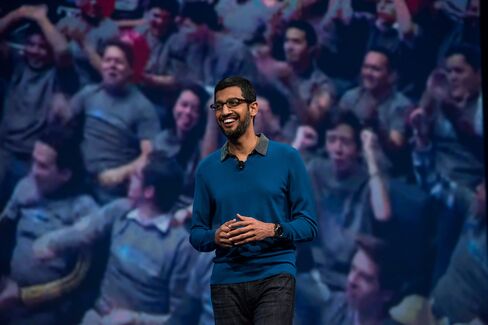 Google Inc. is introducing a new tool that will make it easier for marketers and developers to buy ads for app downloads on mobile devices, seeking to boost sales and take share from Facebook Inc.
Universal App Campaigns will make the app-advertising process easier and quicker, Jonathan Alferness, a Google vice president, wrote in in a blog post Thursday. With the initiative, Google is aiming to sign up smaller software developers or customers looking to automate their application-marketing campaigns.
The new ad product is part of Google's efforts to drive more promotions around mobile-software installations and app stores. That will also help generate more revenue for programmers developing apps for Android, Google's mobile operating system, as well as its services. The new efforts come after Facebook built up a successful advertising service around app downloads.
Google's technology for creating app ads and setting prices will require clients to type in basic information, such as what the promotions will say, the audience target and how much to spend.
"With a single campaign, you can scale your reach across Google Search, the AdMob network, mobile sites, YouTube and Google Play," Alferness said in the post.
Google also announced other services for developers, including analytics features that help track how app-install marketing efforts are working across more than 20 advertising networks. Also, the company said in a separate post that it will give mobile developers new tools to fine-tune what ads get shown to which users.
Before it's here, it's on the Bloomberg Terminal.
LEARN MORE