Google and Online School Offer Android 101 to Get Better Apps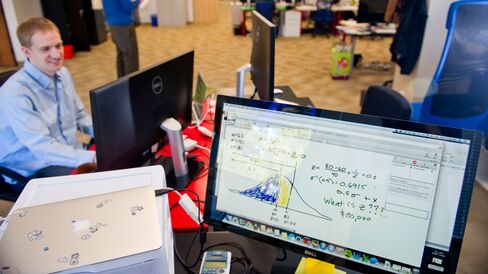 Google Inc. and online-teaching company Udacity Inc. are teaming up to give Android developers a curriculum to help tackle the growing demands of the mobile operating system.
The Android Nanodegree takes six to nine months to complete and costs $200 a month, said Sebastian Thrun, Udacity's chief executive officer. Google created the coursework for the certificate, using its own experts and developers.
Many apps "are very poorly written," said Thrun, a former head of the Google X research laboratory. The program will help "people to become really excellent app developers."
Google, which announced the certificate Thursday at its annual I/O developers conference in San Francisco, is seeking ways to encourage software engineers to build better apps for Android, which dominates the smartphone market. That means engaging users on everything from cool games to communication features.
"We want beautiful design," said Peter Lubbers, senior program manager for developer relations at Google. "We are really focused on creating visually pleasing apps."
Udacity has set up nanodegrees in other areas, including for Apple Inc.'s iPhone operating system. That course was developed with AT&T Inc., which sells the smartphone, not Apple.
The Android program, which uses 14 instructors from Google, is aimed at developers who have a few years experience with the system. The course will focus on such areas as making software faster, integrating with the Internet company's services and designing within the guidelines of the Google Play app store.
Lubbers said Google and Udacity plan to offer certificates in entrepreneurship, Web development and cloud computing as well.
Before it's here, it's on the Bloomberg Terminal.
LEARN MORE