College Graduates Born Abroad Now Earn More Than U.S.-Born Workers
Workers born outside the U.S. have seen fast wage increases over the last few years
Ask any U.S. recruiter: Competition for science, technology, engineering and math (STEM) talent is getting fierce. Benefiting big from that trend are foreign-born college graduates, who are seeing fast wage gains as they help American employers fill those hot jobs.
Among full-time wage and salary workers in the U.S. with a bachelor's degree or more, those who were born outside the country earned higher wages than native-born workers for the second year in a row in 2014, according to Labor Department data. That reversed an earlier trend that had U.S.-born workers earning more. Unadjusted for inflation, median wages increased a sluggish 3.6 percent for native-born college graduates from 2010 to 2014, while they rose 9.2 percent in the same period for foreign-born workers with at least a bachelor's.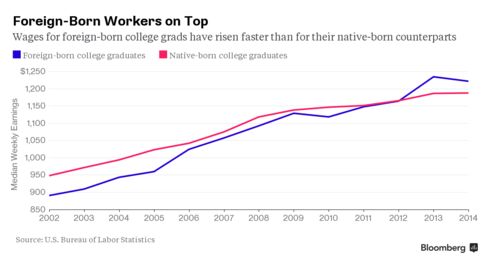 Why the discrepancy? A disproportionate number of foreigners study one of the so-called STEM subjects in school, according to Neil Ruiz, a senior policy analyst at Washington-based Brookings Institution who studies issues involving foreign-born students and workers. Demand for specialized, technology-related skills slowed somewhat during the recession, and has since revved up among employers since the economic recovery took hold, Ruiz said.
In 2011, it took 10 months to reach the cap for H-1B visas, 85,000 of which are allotted by the U.S. annually. Those go mostly to workers in technology, engineering, science and research. Ten months turned into just 10 weeks the following year as employers rushed to file petitions. And employers have hit the cap within just days in years since, most recently submitting a record 233,000 requests.
That said, any cause for celebration among foreign-born workers is confined to those who are the most highly skilled. The remaining 64 percent of foreign-born workers in the U.S. workforce continue to make less than their native-born counterparts at comparable lower levels of education.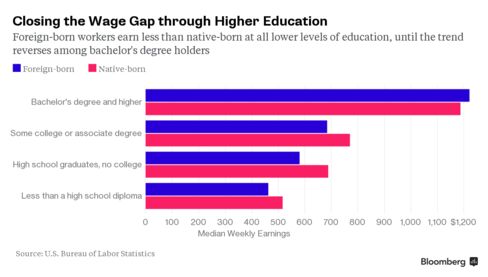 For more on the global economy, check out Benchmark:
Before it's here, it's on the Bloomberg Terminal.
LEARN MORE