China Backpedals on Fiscal Reform
Facing a weakened economy, the government lets borrowing resume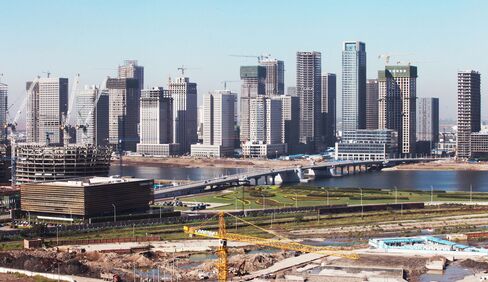 In 2014, China's central government undertook a radical reform of the way provinces and municipalities manage their finances. The target was the unsustainable levels of debt accumulated by local governments. Legally banned for years from borrowing from banks, they used off-balance-sheet finance companies—which can borrow from banks—to fund their real estate and infrastructure projects. The result was job creation but a gigantic waste of capital on frivolities like the city of Tianjin's replica of Manhattan, which remains unoccupied.
Finance Minister Lou Jiwei cracked down on off-balance-sheet financing and told local governments to issue bonds instead. To sell bonds, the governments must reveal financial data to investors.
The reforms are now being reversed because President Xi Jinping's top priority is to shore up the economy. Lou's changes coincided with China's weakest economic growth since 2009. Regulators in mid-May met to consider relaxing the curbs on the off-balance-sheet finance companies, according to people who are familiar with the matter but don't want to be identified because the details haven't been published. The move came after a May 15 order from the State Council to banks to keep funding local development projects approved before yearend 2014, even if the local governments and their finance companies couldn't meet payments.
"Lou needs to cut the cancer of unsustainable local government debt—but that kind of austerity cuts consumption, cuts expansion, cuts everything," says Xiao Geng, research director at the Fung Global Institute, a think tank in Hong Kong. "During this operation he needs to ensure life support so the economy will not collapse." The State Council order is "the most significant policy easing so far in 2015," wrote Deutsche Bank economists Zhang Zhiwei and Audrey Shi in a report dated May 20. "It is a 180-degree reversal of the fiscal policy from tightening to loosening." Before the change, the economists felt China was in danger of not reaching the 7.1 percent growth they predicted for the second half of the year. Now, the risks are even, they say.
The National Development and Reform Commission, the top planning body, announced on May 25 it was easing rules on the amount of assets a bond issuer must hold in reserve before it sells debt. The NDRC also lifted limits on how many bond offerings a local government can make, as long as the funds go to central-government-approved projects.
The relationship between local governments and off-balance-sheet financing companies is opaque: The finance companies are technically owned by state enterprises. The provinces and municipalities started thousands of finance companies, which then used state land as collateral for bank loans. Local debt likely totals as much as 25 trillion yuan ($4 trillion), bigger than the German economy, according to Mizuho Securities Asia. The National Audit Office offers a lower number: 17.9 trillion yuan. An estimated 1.86 trillion yuan of this debt is maturing this year.
Reforming local finances will be on the agenda again: It's too big a problem to ignore. Says David Loevinger, an analyst at fund manager TCW and a former China specialist for the U.S. Department of the Treasury, "Without fixing fiscal policy, China can't achieve sustainable growth."
The bottom line: China's local governments may owe as much as $4 trillion, and $300 billion of that debt matures this year.
Before it's here, it's on the Bloomberg Terminal.
LEARN MORE