Stuck in Cannes
At the opulent French festival, old Hollywood faces the rise of streaming films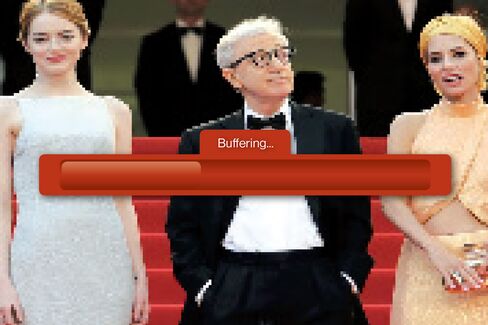 The Cannes International Film Festival is cinema's most absurd three-ring circus, split among the exalted lineup of film screenings, the crass commercialism of a global sales market, and a hyperbolic seaside party scene. "Love that Uber now has helicopters," Paris Hilton tweeted, snapping selfies in an UberChopper, one of the festival's silliest publicity stunts. Like many of the .001 Percenters, she was only in town for the red carpets—where stars from the older generation (Michael Caine, Jane Fonda) rubbed shoulders with those (Tom Hardy, Rooney Mara) trying to replace them.
Beneath the glamorous surface, the festival was struggling to stay current. Everyone at Cannes, which ended May 24, was fretting about a digital world that's abandoning film, particularly the 35mm sort released in theaters. Ted Sarandos, Netflix's chief content officer, upstaged a day of screenings when he gave the week's most prominent address. Introduced by festival director Thierry Frémaux as "the future," Sarandos explained that Netflix's high-end move into content production wouldn't harm cinemas. "We aren't anti-theater, we're pro-movie," he said, describing plans to release a sequel to Crouching Tiger, Hidden Dragon, four new Adam Sandler films, and Beasts of No Nation, a potential Oscar contender directed by Cary Fukunaga that was purchased for $12 million. Some of these movies will land simultaneously in theaters and on Netflix, which Sarandos insisted wouldn't harm ticket sales: "It's on us to make movies that are so great theater owners will also book them, even though they're on Netflix."
Soon after, he was heckled by an audience member who shouted that Netflix would "destroy the current ecosystem for film production in Europe." Megaproducer Harvey Weinstein, whose company is co-producing some Netflix projects, jumped up to Sarandos's defense, describing himself as a "bodyguard" and praising the streaming company as "visionary." But the real defense was cash: Netflix's projects "are going to be profitable for the producer," Sarandos added, which isn't always the case with traditional distribution. (That's because the company paid a 130 percent premium above film costs for complete distribution rights, according to Deadline Hollywood, an industry website.)
This was far from the only digital squabble at Cannes. One afternoon on the beach, Sony Pictures Classics co-founder Tom Bernard, a 35-year veteran of the festival with more than 140 Oscar nominations to his company's credit, complained about the rise of day-and-date releases, in which smaller films open concurrently in theaters and online. Noting that more than 900 films were reviewed by the New York Times in 2013, he argued that the surge was polluting theaters with a glut of "inferior product that turns audiences away." In contrast to all that popcorn fare, Bernard said serious foreign films, documentaries, and art flicks are reaching wider audiences than ever, in both brick-and-mortar venues and online.
He and his partner, Michael Barker, backed up that optimism with aggressive Cannes deals, picking up Son of Saul and Our Little Sister, both potential Oscar nominees for Best Foreign Language Film. They also spent more than $6 million for Truth, starring Robert Redford as Dan Rather on the eve of the anchor's disgrace. Sony will release those films traditionally, prioritizing SIT—still in theaters, a term Bernard coined—while building awards campaigns. The titles will stream only after they stop making money at the megaplexes.
Sony also premiered Woody Allen's 45th film, Irrational Man, starring Joaquin Phoenix and Emma Stone. It got mixed reviews, so all eyes turned instead to Allen's untitled, six-episode Amazon.com project. While Cannes hummed along in the background, the director did an interview with Deadline that signaled a new kind of digital paranoia. "I have regretted every second since I said OK" to Amazon, he said, adding that he's confused by streaming and the show's unlikely to be delivered until the last possible minute, when it's due in 2016. "I had the cocky confidence, Well … it'll be a movie in six parts," Allen said. "Turns out, it's not. … I haven't had a pleasurable moment since I undertook it."
Before it's here, it's on the Bloomberg Terminal.
LEARN MORE