Japan Limps Into 2nd Quarter as Inflation Stops, Spending Falls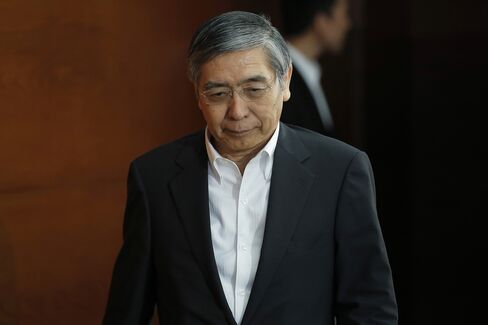 The Japanese economy limped into the second quarter, as household spending fell, people left the job market and the central bank's key inflation gauge slowed to zero.
Consumer prices excluding fresh food and effects of last year's sales-tax increase were unchanged in April from a year earlier. Household spending unexpectedly fell 1.3 percent and industrial production was lower than a year earlier when the levy hike triggered a recession, according to the government data released Friday.
Weakness in the economy is raising the stakes for Prime Minister Shinzo Abe as unprecedented efforts by the central bank fail to spur inflation and pressure grows to contain the world's heaviest debt burden. The International Monetary Fund says Japan needs a complete set of policies to boost growth that would avoid dependence on a weak yen, which slumped to a 12-year low this week.
"The data paint a picture of Japan's lackluster recovery," said Shinichiro Kobayashi, an economist at Mitsubishi UFJ Research and Consulting Co. "The cost of a weak yen will start to outweigh the benefits."
Weak Yen
The yen has lost a quarter of its value against the dollar since the BOJ boosted asset purchases in April 2013 to drive inflation to 2 percent. The currency this week fell to its lowest since 2002, and was trading at 123.77 per dollar at 10:35 a.m. in Tokyo.
Governor Haruhiko Kuroda said this week that he didn't think major currencies had veered from economic fundamentals, while Finance Minister Taro Aso said moves in the yen had been "rough." The U.S. and Japan reaffirmed a commitment not to use exchange rates to gain a competitive edge.
Kuroda is girding for a longer battle to reflate Japan's economy after last month pushing back the timing for achieving the inflation target. While he has warned of a temporary drop in prices, he's betting that stronger growth driven by cheaper oil that's weighing on prices now will eventually spur gains in consumer prices.
The central bank is counting on rising demand, tighter supply and expectations for price increases to fuel a pick up in consumer prices.
While Kuroda has said labor shortages will eventually spur inflationary pressures as more companies boost pay to secure workers, Friday's data indicate the scenario isn't playing out yet.
Job Market
A decline in the unemployment rate to 3.3 percent in April partly reflected a drop in the workforce. 340,000 people left the job market last month, the most in more than four years, while the number of people employed fell by 280,000.
The BOJ's main inflation gauge slowed from 0.2 percent in March. Core consumer prices, including the effects of the higher sales levy rose 0.3 percent from a year earlier, the statistics bureau said Friday. That was more than a 0.2 percent gain forecast by economists.
The effects of last year's tax increase lingered, adding 0.3 percentage point to core consumer prices, according to the central bank. From May, the impact will drop out of the data.
Twenty-one of 36 economists see the BOJ boosting stimulus by the end of October, with nine predicting in July, according to a Bloomberg News survey from May 11-18.
Temporary Deflation
Japan could see 0.2 percent deflation before September, as a 46 percent fall in oil from last year's peak in June pushes down consumer prices, according to Tomo Kinoshita, an economist at Nomura Holdings Inc. All but two of 29 economists surveyed March 5-12 said there was a chance that core consumer prices will decline at some point this year.
The BOJ refrained from increasing stimulus last week, with Kuroda signaling more optimism on the economy. "We aren't thinking about any specifics for additional measures now as we expect the price trend will steadily improve," Kuroda said on May 22.
Gross domestic product expanded an annualized 2.4 percent in the three months through March, also getting a lift from a buildup in inventories that threatens to weigh on industrial production in the months ahead.
Before it's here, it's on the Bloomberg Terminal.
LEARN MORE