Dollar Rally Extends as Improving Economic Data Emboldens Bulls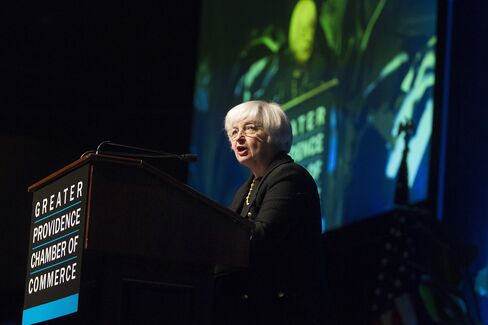 The dollar rose for a fourth day, the longest winning streak this quarter, as a growing set of improving economic data breathes new life into the greenback's rally.
The dollar is surging against most major currencies, reaching an almost eight-year high versus the yen, after Federal Reserve Chair Janet Yellen said last week she expects to raise interest rates this year. April economic data from consumer prices to durable goods orders improved, suggesting the first-quarter U.S. economic slowdown was temporary.
"It feels like after a couple of months of a lot of frustration with the dollar, people are getting some confidence that U.S. data momentum can be turning higher again," Matt Derr, a foreign-exchange strategist at Credit Suisse Group AG in New York, said by phone. "People are testing the water. It seems like there's still quite a bit of room for this to run."
The Bloomberg Dollar Spot Index, which tracks the greenback versus 10 peers, rose 0.3 percent to 1,195.00 as of 9:37 a.m. New York time.
A slowing economy and rising bond yields in Europe reduced the allure of the dollar assets, halting a nine-month rally in March. The dollar gauge was headed for a 2.7 percent gain this month, almost erasing the 3 percent loss in April.
The U.S. currency gained 0.3 percent to 123.48 yen and reached 123.78, the strongest level since June 2007. It's up 2 percent since May 21, the day before Yellen gave her speech in Providence, Rhode Island.
Long-Term Trend
The dollar's rise against the Japanese currency has surpassed a long-term trend line drawn between the high of 160.20 in April 1990 and 147.66 in August 1998, signaling that further rallies are likely, said Takuya Kawabata, an analyst at Tokyo-based Gaitame.com Research Institute Ltd.
"Looking at Yellen's comments from the end of last week, it seems like she's determined to act this year," said Yasuhiro Kaizaki, vice president for global markets at Sumitomo Mitsui Trust Bank Ltd. in New York. "Until recently, I think people were only really buying the dollar against the euro, but it's clear now that you can buy the dollar against many different currencies."
Yellen, in her first public comments on the policy outlook since late March, said that if the economy continues to improve as she expects, "it will be appropriate at some point this year" to start raising rates.
Before it's here, it's on the Bloomberg Terminal.
LEARN MORE