Ukraine Moratorium Threat Dismissed as Bonds Recover From Shock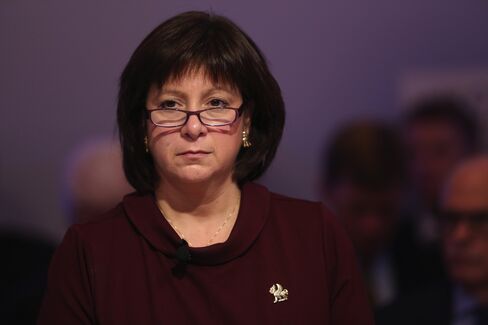 Ukraine is failing to convince bondholders it might stop servicing its debt.
Since the nation unnerved investors last week with new laws enabling it to halt interest payments, its bonds have more than recovered their losses. The government won't risk a worsening debt and currency crisis by unilaterally stopping payments, according to analysts from JPMorgan Chase & Co. and Rogge Global Partners.
"It's a game of chicken," Per Hammarlund, the chief emerging-markets strategist at SEB AB in Stockholm, who sees a 30 percent chance of a disorderly default, said by e-mail Wednesday. "The government threatens to default, but it would hurt them as much as the creditors."
While Ukraine is seeking a debt reduction in time for bailout talks with the International Monetary Fund in June, the analysts underscore expectations for several more months of negotiations as creditors resist writing down the $23 billion they're owed. Despite a war against pro-Russian separatists having depleted reserves, Ukraine would only cease paying its obligations if it failed to reach an agreement when the first of the bonds comes due in September, JPMorgan analysts said.
Ukraine's $1.3 billion of bonds maturing in April 2023 fell 0.3 cent to $49.99 cents on the dollar at 10:35 a.m. in Kiev, paring an advance since the moratorium law was passed to 3.5 cents.
Hryvnia Fallout
"The authorities in Kiev don't want to default," Michael Ganske, who helps manage $6 billion of emerging-market debt including Ukrainian bonds at Rogge in London, said by e-mail.
Ukraine's currency, the hryvnia, which has rebounded 62 percent since weakening to a record 34.247 against the dollar in February, would return to similar level if a debt moratorium was announced, Ganske said. Such a move would delay Ukraine's return to international financial markets and make it difficult for companies and banks to service their foreign-currency debts, JPMorgan analysts including London-based Jonny Goulden wrote in a research report last week.
Finance Minister Natalie Jaresko said on May 21 that gaining the moratorium authority had helped push forward debt negotiations, with advisers planning meetings in London this week. The bill was not meant as a threat, yet puts "all options on the table" for Ukraine, she said.
Ukraine is not an "unpredictable borrower" and paid a $32.9 million coupon payment due last week on its Nov. 2016 bond, Jaresko said. A spokesman for the finance ministry declined to comment on the likelihood of it imposing a moratorium when contacted by e-mail on Wednesday.
Russia Problem
Stopping coupon payments would land Ukraine in court, Russian Finance Minister Anton Siluanov said on May 20, pointing to a June 20 coupon payment it is owed. Russia, which bought a Eurobond from the regime of former President Viktor Yanukovych before he was overthrown in February 2014, has refused offers to renegotiate the $3 billion note that matures in December.
"The government will only play the moratorium card after the Russian coupon has been paid," Jakob Christensen, an economist at Exotix Partners LLP in London, said in an e-mailed note on May 21. "The bond negotiations risk being a drawn-out affair, posing downside risks to bond prices."
Before it's here, it's on the Bloomberg Terminal.
LEARN MORE