Traders Starved of Currency Swings Urge Rule Changes in Nigeria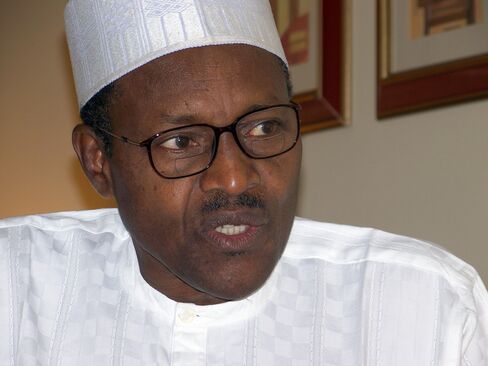 As currency traders await the inauguration of Nigerian President-elect Muhammadu Buhari on Friday, top of their wish list for the new administration is an overhaul of the nation's foreign-exchange rules.
Price swings in the naira have plunged since curbs on speculation were introduced in February and it's now the most stable unpegged currency after Kenya's shilling among 37 peers in Europe, the Middle East and Africa. That limits the volatility traders exploit for profit, prompting firms from Lagos-based Access Bank Plc to Bank of America Corp. to call for the rules to be softened or repealed.
Talks are already underway with central-bank officials and a new regime may be unveiled once Buhari is in place, people with knowledge of the discussions said. The trading curbs have stopped the naira weakening amid an Islamist insurgency in the north of Nigeria and a 43 percent drop over the past year in oil, which accounts for two thirds of government revenue.
"The market would love to see some restoration of foreign-exchange flexibility," said Dapo Olagunju, Access Bank's treasurer in Lagos. "The question is, when will there be a meeting of minds?"
Range Bound
Nigerian regulators started talks with dealers about how to loosen the trading restrictions at the beginning of May, according to people familiar with the matter, who asked not to be identified because the matter is private.
"There's no change" yet to the currency regime, central-bank spokesman Ibrahim Mu'azu said by phone from Abuja on Wednesday. "We have to see the direction of the incoming government."
The naira has closed within a range of 197 to 200.7 per dollar every day since the end of February, when authorities first prevented traders from buying greenbacks without matching orders from customers. It was at 199 on Thursday, after tumbling to a record-low of 206.32 on Feb. 12, the day before the new system was introduced.
Worst Performer
The trading curbs are the latest in a series of measures designed to shore up the naira, which in the first quarter was the fourth worst-performer among 24 African peers tracked by Bloomberg.
The rules have left Nigeria's currency "disconnected from reality," with "fair value" at 215-235, or at least 8 percent weaker than current levels, Bank of America economists Oyin Anubi and Turker Hamzaoglu, both based in London, wrote in a May 13 report.
The naira's perceived over-valuation is causing investors to shun Nigeria. BlackRock Inc., Aberdeen Asset Management Plc and Investec Asset Management -- which oversee a combined $5.5 trillion -- have all said they're holding off buying naira bonds and equities as they wait for the currency to weaken.
Slowing Economy
That's a further drag on an economy that's already slowing. President-elect Buhari, a 72-year-old former military ruler, inherits a nation ravaged by the drop in the value of oil, which accounts for 90 percent of export earnings, and an uprising by Boko Haram militants. The International Monetary Fund cut its 2015 growth estimate for Nigeria to 4.8 percent in January, from 7.3 percent.
One-month historical volatility on the naira-dollar rate has tumbled to 4.9 percent, from 23 percent as recently as March 4, data compiled by Bloomberg show. The measure fell to as low as 0.9 percent last month before climbing as oil rose back above $60 a barrel and on optimism traders would reach a compromise with regulators.
"The market doesn't move," said Mickael Avou Ahonzo, the Paris-based head of currency trading at Ecobank Transnational Inc., which operates across Africa. "It's frustrating. We've seen the same rate for the last one or two months. We don't have many opportunities" to make money.
Before it's here, it's on the Bloomberg Terminal.
LEARN MORE