Tale of Two Time Warners Spurs Cable vs Content Debate: Real M&A
The $79 billion takeover of Time Warner Cable Inc. shows that cable companies are still eating the dust of content providers.
Even after an unprecedented spate of mergers, America's biggest cable and satellite-TV operators haven't caught up to the content creators that developed hit shows such as "Game of Thrones" and "Mad Men."
Cable operators including Time Warner Cable and its buyer Charter Communications Inc. trade for an average 15 percent discount to a group of content producers that includes Twenty-First Century Fox Inc. and AMC Networks Inc. That's based on multiples of earnings before interest, taxes, depreciation and amortization.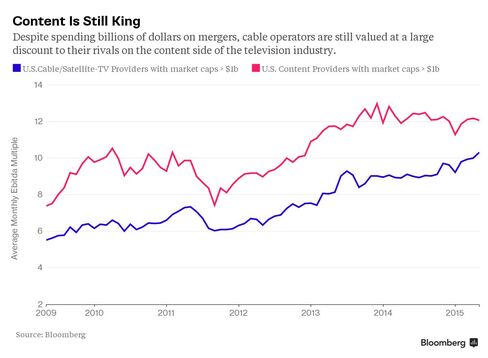 The bifurcation is perhaps best demonstrated by the two Time Warners, formerly a single entity: Time Warner Inc., owner of HBO, is valued at about 14 times Ebitda. Meanwhile, Time Warner Cable is fetching just 9.8 times Ebitda in its sale to Charter, which was announced Tuesday.
Content companies have been able to charge pay-TV providers higher prices for sports and other entertainment, with annual increases near or above 10 percent for several years. The providers haven't been able to pass those increases through to subscribers as quickly.
"The cable companies are much, much cheaper," Jonathan Chaplin, an analyst at New Street Research in New York, said in a phone interview. "The content companies have had all the pricing power."
Narrowing Gap
The business of creating TV shows will always be sexier than selling cable subscriptions. And content companies are less capital-intensive than cable operators, pushing their valuations higher because they can return more cash to shareholders. But their inequality in the stock market may start to diminish.
For one, cable operators are trying to reinvent themselves as broadband Internet providers, which is a more lucrative business. That should help their valuations catch up with the content companies, Chaplin said.
Content producers, such as Viacom Inc. and Walt Disney Co., may also be at risk of losing revenue as pay-TV providers begin to feature slimmer bundles of channels to reduce customers' bills. Verizon Communications Inc.'s FiOS announced last month it would offer a Custom TV service that has a base package of just 35 channels. Additional channels are tiered based on genre. If consumers don't want them -- say, sports or kids programming -- they can opt out and not pay for those.
This may hurt distribution for channels such as Viacom's Nickelodeon or Disney's ESPN, which generate revenue based on how many households get the channel. ESPN is suing Verizon, claiming the new packaging method violates its licensing agreement.
Netflix Effect
Further, the amount of content available through online services such as Netflix Inc. has boosted the willingness of cable distributors to drop channels that aren't deemed must-have. These online services don't pay programmers nearly as much for on-demand library content as pay-TV providers may for live-streaming channels.
Finally, if Charter's deal for Time Warner Cable and Bright House Networks goes through, a much larger No. 2 cable provider will emerge. More consolidation in the industry is expected as Altice SA has publicly expressed its desire to get bigger beyond its $9.1 billion acquisition of Suddenlink Communications, the seventh-largest cable provider, earlier this month.
As cable providers combine, they'll gain more leverage against their content counterparts and have more power to push back on price increases from programmers.
Streaming Fees
There is still one way content companies could maintain their lead in the stock market: Fees from up-and-coming streaming services such as those offered by Sony Corp. and Apple Inc. Because these aren't yet proven models with the promise of drawing heaps of subscribers, they'll have to pay up just to be able to offer the content.
Content providers are also benefiting from takeover speculation. Talk of a deal for Scripps Networks Interactive Inc., the owner of HGTV and the Food Network, and AMC Networks, the creator of "Mad Men" and "Breaking Bad," intensified last year after larger rival Time Warner rejected a takeover offer from Rupert Murdoch's Fox.
On the cable side, smaller operators are also rising amid the industry's recent consolidation, even if they haven't caught up to content companies. Cablevision Systems Corp. has surged on speculation that Altice could bid for the $7 billion company.
Dish Network Corp. has also propped up the group because the satellite-TV provider owns valuable wireless spectrum.
"There's so much deal speculation embedded in a lot of these stocks that it obscures fundamentals," Craig Moffett, an analyst at MoffettNathanson, said in a phone interview. "Expectations have become so overheated."
Before it's here, it's on the Bloomberg Terminal.
LEARN MORE